1997-1998 Regular Season Fight Card
NHL Fights: 5
Date/Time
For
Against
Opponent 10/09/97
1 Pd 9:41
NYR
@CAL
Mike Peluso
Date/Time For Against Opponent 10/30/97
1 Pd 8:6
NYR
@NYI
Paul Kruse
Other Penalties: Kruse received a misconduct.
Date/Time For Against Opponent 11/05/97
1 Pd 1:58
NYR
@COL
Wade Belak
Date/Time For Against Opponent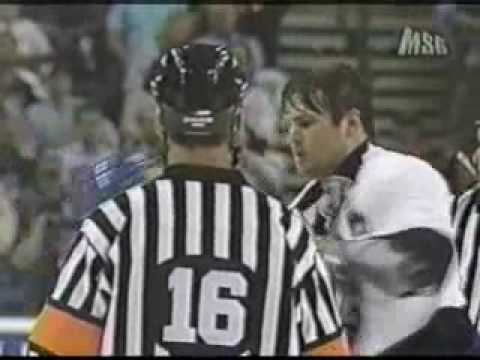 11/19/97
1 Pd 7:25
NYR
@TBL
Louie Debrusk
Behind the play these two come together and Debrusk opens with some short lefts with a left uppercut mixed in. Vandenbussche weathers the storm and gets his left free to throw a quick shot. Debrusk counters with three more lefts and they spin around taking a breather. At this point Debrusk again uses his size to land lefts at will with enough force that Vandenbussche can't get anything going. Eventually Vandenbussche ducks under a shot in order to take Debrusk to the ice.
Date/Time For Against Opponent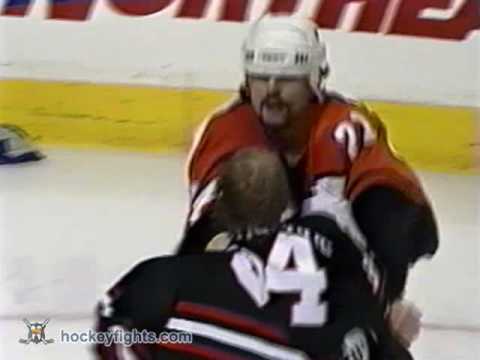 03/31/98
2 Pd 1:34
CHI
@PHI
Dan Kordic
Voted winner: Dan Kordic (30.2%) - Voted rating: 8.9
Other Penalties: Steve Dubinsky received a double roughing and misconduct; Paul Healey a roughing and misconduct.