2002-2003 Regular Season Fight Card
AHL Fights: 1
Date/Time
For
Against
Opponent
02/15/03
2 Pd 8:11
@NOR
POR
Mel Angelstad
NHL Fights: 7
Date/Time
For
Against
Opponent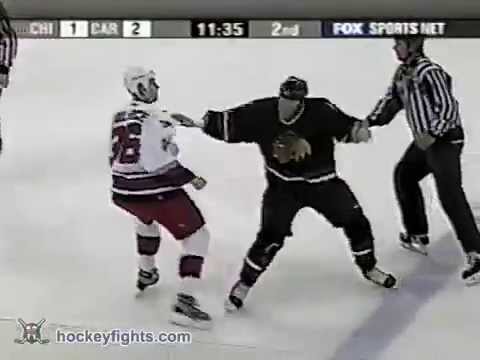 10/26/02
2 Pd 8:25
CHI
@CAR
Jesse Boulerice
Date/Time
For
Against
Opponent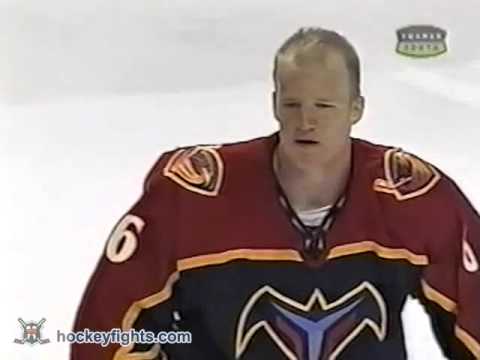 11/07/02
1 Pd 2:37
@CHI
ATL
Francis Lessard
Date/Time For Against Opponent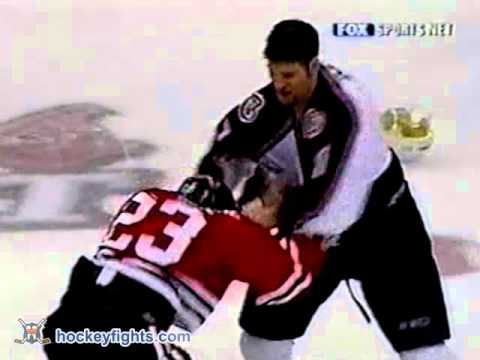 11/25/02
2 Pd 5:4
CHI
@COL
Scott Parker
Long square off, then Parker dives in and grabs Vandy with the left. A wild swing makes Vandy off-balance and Parker feeds him four or five rights square on the left side of his face. They lock each other out and the refs come in and Vandy takes two shots at Parker over the refs. Parker throws another one over the refs as they get pulled apart. Vandy has a nasty cut over the left eye. Front of his shirt was looking pretty red. He headed for the locker room for repairs.
Date/Time For Against Opponent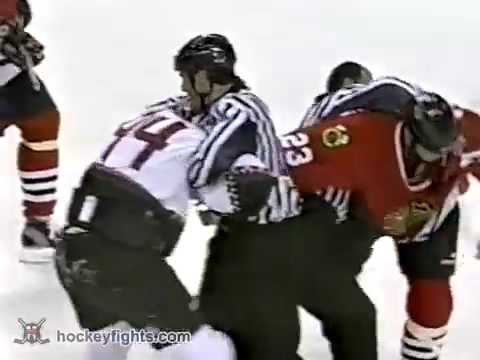 11/28/02
1 Pd 3:9
CHI
@ARI
Andrei Nazarov
Happens during the replay of previous fight. Naz jumps in and gets caught with 2 hard lefts from Vandy. Naz goes down, but it wasn't a TKO. Naz' knees didn't buckle or anything, looked more like a willingness to drop and not get hit anymore.
Date/Time For Against Opponent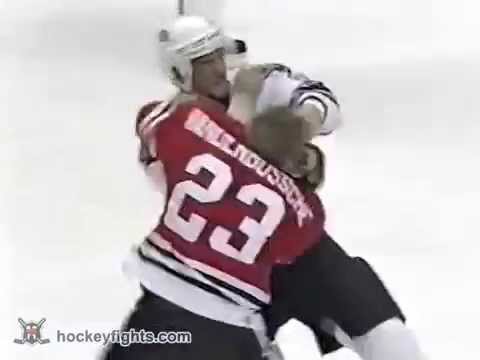 11/30/02
1 Pd 12:0
CHI
@LAK
Kip Brennan
Lined up off the facoff and they drop em. Vandenbussche starts throwing hard lefts, a couple landing and Brennan goes down, perhaps a slip or a combo slip/punch. He gets up and they continue with Vandy getting the better of the exchanges. Before they came together Vandenbussche was saying something to the ref, perhaps mentioning something about tape on Brennan's hand.
Date/Time For Against Opponent 02/25/03
1 Pd 15:5
@CHI
PHI
Todd Fedoruk
Camera got there late, but they both had each other tied up pretty good. Commentator said they each got some quick ones in right off the bat. Fedoruk then got in an uppercut and Vandy a hook, lot of wild punches before they just hugged it out.
Date/Time For Against Opponent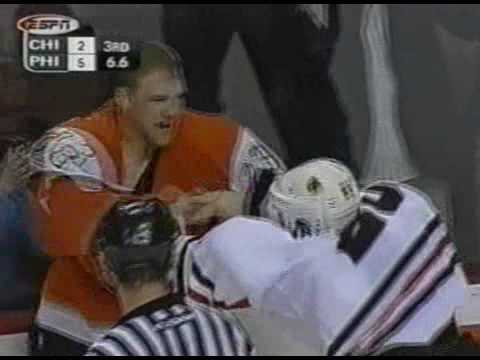 02/27/03
3 Pd 19:53
CHI
@PHI
Jim Vandermeer
After some grinding in the corner, the puck comes out and Vandenbussche tries to leave, but Jim gives him an extra push. Ryan turns around and off come the gloves. After a brief square off, they come together and Vandenbussche starts with the left and Jimmy with the rights. They trade punches toe to toe for about 10 seconds, then Jimmy lands a solid right to Vandenbussche's noogin, and a follow-up punch lands square and bloodies Ryan V. Vandenbussche goes to the right and Jimmy to the left and they trade toe to toe again for about 8 seconds and then Vandenbussche tires out while Jimmy is smiling. Ryan gives Jim a bit of a facewash as the linesmen break them up.