2005-2006 Regular Season Fight Card
AHL Fights: 7
Date/Time
For
Against
Opponent 11/26/05
1 Pd 20:0
WBS
@BIN
Jan Platil
Date/Time
For
Against
Opponent 12/09/05
2 Pd 20:0
@WBS
MTB
Kevin Bieksa
Date/Time For Against Opponent 01/13/06
1 Pd 0:59
WBS
@NOR
James Wisniewski
Date/Time For Against Opponent
Date/Time For Against Opponent 02/19/06
3 Pd 16:8
WBS
@PRO
Sean Curry
Date/Time For Against Opponent 02/24/06
1 Pd 0:22
WBS
@MTB
Nathan McIver
Date/Time For Against Opponent 04/12/06
2 Pd 6:12
WBS
@SYR
Steven Goertzen
Other Penalties: Lefebvre and Mike Sgroi each received a roughing.
NHL Fights: 1
Date/Time For Against Opponent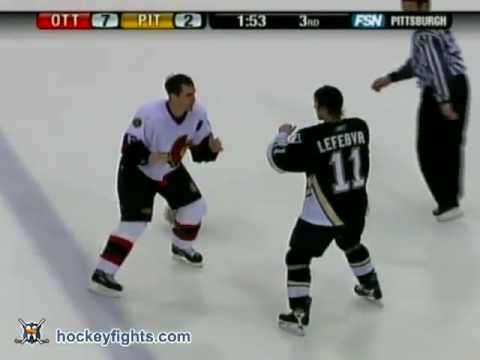 02/02/06
3 Pd 18:7
@PIT
OTT
Wade Redden
The two come together along the side boards and decide to drop the gloves. They shed the helmets and square off near the blueline as Redden grabs on and lands a quick right to start things off. They wrestle around in tight as the two go back and forth with right hands, Lefebvre getting the better of the exchange. Lefebvre then throws six straight rights with a couple landing as Redden tries to duck away from the punches. Redden comes back with two rights as Lefebvre throws a short uppercut. Lefebvre switches hands and throws four lefts as Redden returns fire with two rights. Redden throws a right to the back of Lefebvre's head and the two grapple. Redden gets free and throws two more rights as Lefebvre throws four short rights to the back of Redden's head before they fall to the ice.