2003-2004 Regular Season Fight Card
NHL Fights: 9
Date/Time
For
Against
Opponent 11/11/03
3 Pd 19:17
OTT
@ATL
Francis Lessard
Date/Time For Against Opponent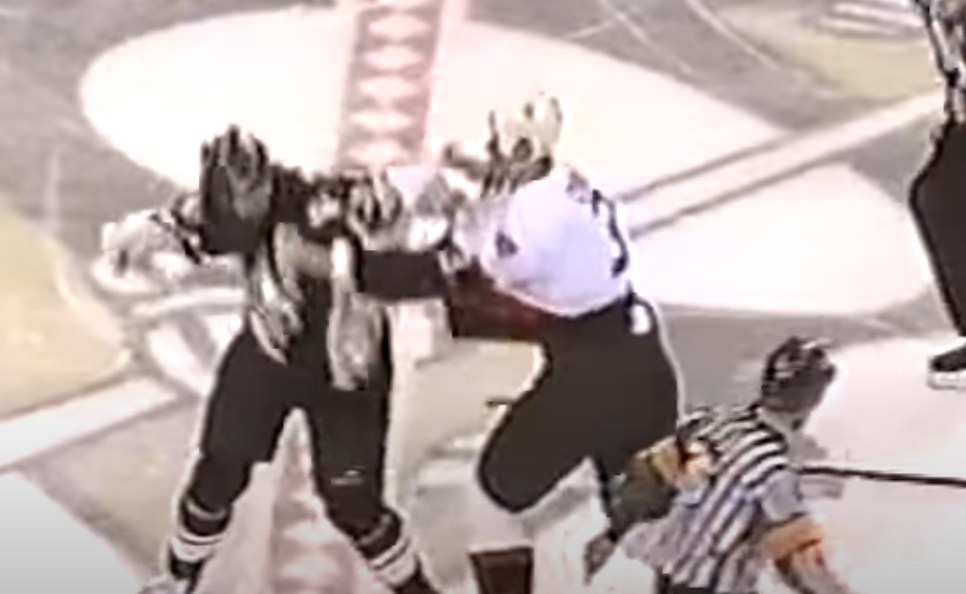 11/22/03
2 Pd 3:25
OTT
@PIT
Steve McKenna
McKenna hits Chara behind the play, they talk and both decide to go. McKenna gets the jump on Chara, but misses his punch. They lock each other out and swing with the rights. Both trade four or five punches with most coming up short, but both got at least one decent punch in. Chara is using the jab with his left and McKenna is off-balance. Chara throws a couple more landing one and then tackles Meckenna.
Date/Time For Against Opponent 12/04/03
3 Pd 14:19
OTT
@TBL
Vincent Lecavalier
Lecavalier elbows Chara behind the net and Chara runs after Lecavalier looking for a fight. He drops his gloves, Lecavalier seemed sort of surprised. Chara threw a couple of good rights that connected, a pretty big one at the end. Lecavalier threw one or two that didn't seem to do much. Chara seemed to be taking it easy on Lecavailer for the most part. Other Penalties: Lecavalier received a high sticking.
Date/Time For Against Opponent 12/11/03
2 Pd 7:24
@OTT
TBL
Chris Dingman
This one starts up after the whistle. Chara lands two nice uppercuts and at least one overhand right as Dingman was going down.
Date/Time For Against Opponent 12/20/03
1 Pd 3:4
@OTT
NYR
Matthew Barnaby
These two just step out the box for roughing minors, and can't wait to have a dance. Nice squareoff as they step out the penalty box. They both dive in, Chara has a big reach advantage, throws a couple of jersey-punches with his left hand. Chara is so tall Barnaby has to grab Chara's left shoulder, NOT his right shoulder (simply cant reach it!). Barnaby actually gets in a decent right hand. They spin a little bit, Chara has his right hand cocked and ready and then Chara gets in a nice uppercut as they go to the ice.
Date/Time For Against Opponent
A scrum breaks out and Gill seeks out Chara and they drop em. They both grab hold and start an awkward spin which lasts about 10 sec then Chara takes over completely. Chara pounds him to the ice with many rights giving Gill a nice gash over the eye which was bleeding nicely.
Date/Time For Against Opponent 01/22/04
3 Pd 4:27
@OTT
PIT
Steve McKenna
They bumped in the corner and Mckenna turned around and they immediately dropped 'em. They each threw a couple of rights, Mckenna throwing one that was pretty powerful, but it appeared to hit Chara in the chest. It knocked Chara back a little. Chara then threw a right to the back of Mckenna's helmet. Mac went down, and Chara had the right hand ready, on top of Mac, but didn't throw. The linesmen came in.
Date/Time For Against Opponent 02/16/04
1 Pd 8:11
OTT
@NYR
Chris Simon
After a whistle Simon follows Chara and gives him a push. Chara turns and they drop the mits. Chara tags Simon with a right and knocks his lid off. Simon answered with three lefts that grazed Chara, while Chara threw three more rights that don't hit much, and the last one missing completely and down they go.
Date/Time For Against Opponent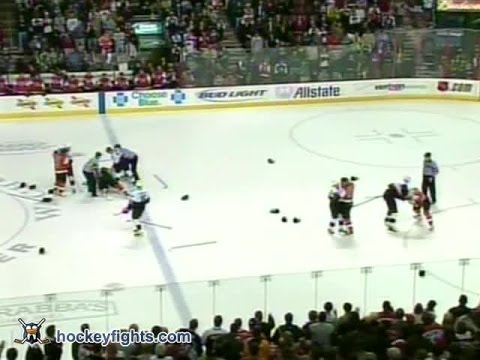 03/05/04
3 Pd 18:18
OTT
@PHI
Mattias Timander
When the camera gets there Timander is just trying to keep Chara locked out. Chara finally tries to land two rights, but misses both of them and Timander wrestles him down. They get back up, but the linesmen get there to break them up and it's over. Other Penalties: Chara received an instigator, misconduct and game misconduct.