2002-2003 Regular Season Fight Card
NHL Fights: 9
Date/Time
For
Against
Opponent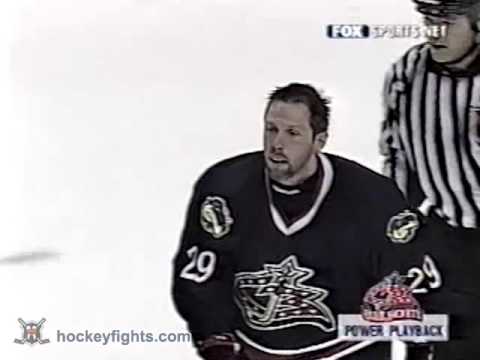 11/07/02
2 Pd 18:26
@STL
CBJ
Grant Marshall
Date/Time For Against Opponent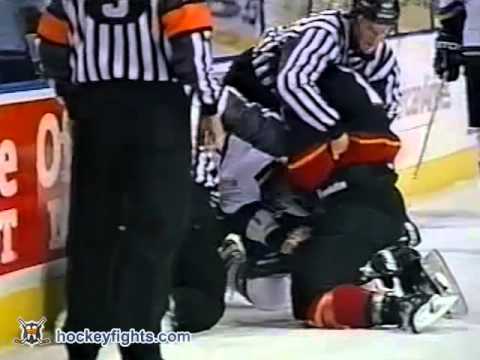 11/29/02
2 Pd 18:41
@STL
CAL
Chris Clark
Both are fighting for the puck against the boards. Pushing and shoving leads to the gloves being dropped with both tied up close together. Clark throws a couple rights that hit the back of Salvador's head. They start a bit of wrestling, then Salvador starts throwing the right which results in Clark losing his helmet and then Clark throws Salvador to the ice.
Date/Time For Against Opponent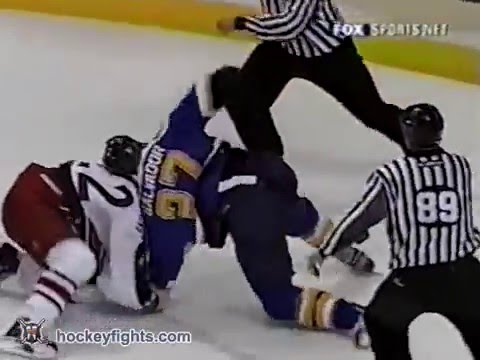 12/29/02
3 Pd 17:20
@STL
CBJ
Luke Richardson
This one starts off in a flash and with one quick right, Richardson sends Salvador to the ice and he continues to unload two bombs as Salvador is trying to get up. Salvador does pop back up and starts throwing bombs, however he's just hittin' helmet and the back of Richardson. Nothing major, but energetic.
Date/Time For Against Opponent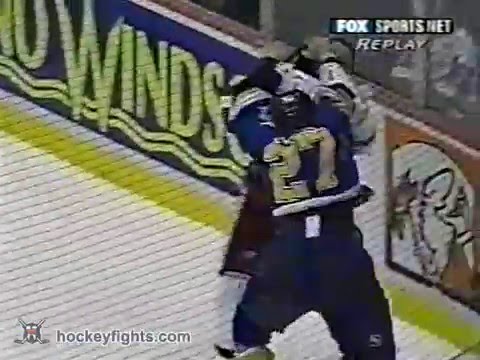 12/31/02
3 Pd 15:50
STL
@DET
Darren McCarty
McCarty, not tied down, comes out of his jersey and pads. Both are chucking them pretty good, then McCarty gets Salvador tied up and pretty much flips him and lands a solid punch when Salvador is on his knees trying to get up. He finally does and McCarty lands another solid shot and ties up Salvador. Then Salvador winds-up and throws a backhand forearm shiver. Other Penalties: McCarty received a game misconduct.
Date/Time For Against Opponent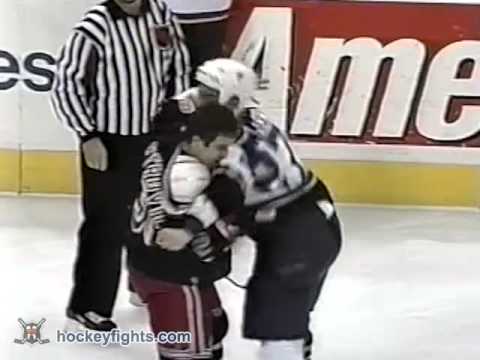 02/06/03
1 Pd 2:47
@STL
NYR
Ron Petrovicky
After a Petrovicky hit in center ice, Salvador comes over and challenges him. Down go the gloves and away they go. Its all Salvador in this one, firing the rights. After the second one, he rips Petro's lid off and starts raining the rights again. Most are missing as Petro is bent away trying to avoid them, but more then one connects to the side of the head. Petro throws the occasional right, but lands nothing. Its all Bryce including the takedown as a right by Petro misses, and down they go.
Date/Time For Against Opponent
Voted winner: Rob Ray (90%) - Voted rating: 5.2
Behind the play Salvador shakes one glove off and challenges Ray. Ray accepts and they start exchanging, with most of Ray's landing and Salvador's coming up short. Ray starts to take over a bit and Salvador goes down, looked like a slip.
Date/Time For Against Opponent 02/17/03
2 Pd 20:0
@STL
CAL
Bob Boughner
Other Penalties: Boughner received a roughing.
Date/Time For Against Opponent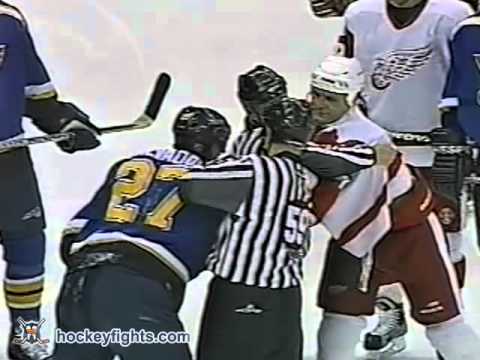 03/07/03
2 Pd 5:10
STL
@DET
Darren McCarty
Both drop the gloves and fire shots toe to toe, McCarty with the left and Salvador with the right. Salvador goes down (not from a punch), and gets back up, but the linesman are in to break it up.
Date/Time For Against Opponent