2005-2006 Regular Season Fight Card
From:
Pincourt, QC Canada
AHL Fights: 1
Date/Time
For
Against
Opponent 10/07/05
1 Pd 18:36
MTB
@PEO
Gavin Morgan
NHL Fights: 3
Date/Time For Against Opponent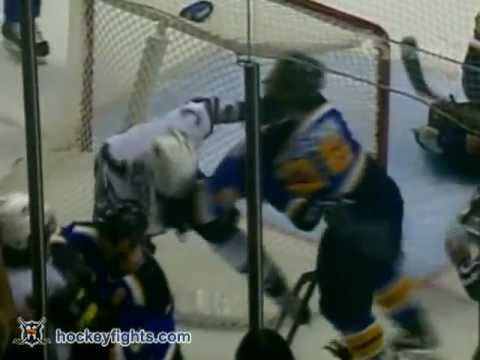 01/02/06
3 Pd 17:41
VAN
@STL
Dennis Wideman
Curtis Sanford makes a save and Burrows is on the doorstep. Wideman pushes Burrows back and Burrows gives him a shove back. A hard shove and stick back by Wideman and the gloves come off. Wideman gets off two hard rights and then takes off Burrows' helmet. Wideman then gets off another few rights to the back of Burrows' head and both fall to the ice. Both players are on their knees and Wideman has Burrows bent over and gets off a couple of more rights before the linesmen come in.
Date/Time For Against Opponent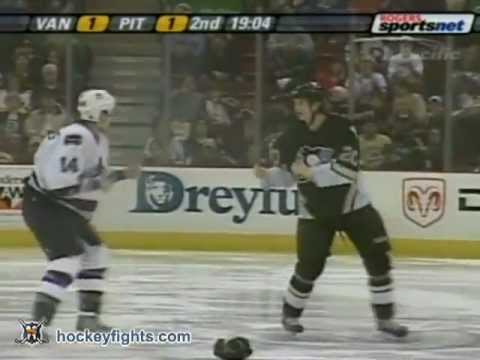 01/16/06
2 Pd 0:57
VAN
@PIT
Colby Armstrong
They drop the gloves behind the play and square off, each fighter removing his own helmet. Burrows grabs on and throws two wild lefts that miss as Armstrong is bent over. They struggle to get loose and Burrows throws another right as Armstrong goes down to his knees. Armstrong gets back up before Burrows throws three overhand rights to Armstrong's back. Armstrong then slams Burrows to the ice and the linesmen come in. Other Penalties: Burrows received a roughing.
Date/Time For Against Opponent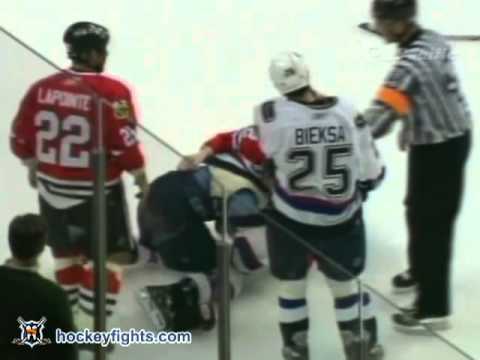 03/03/06
2 Pd 1:23
VAN
@CHI
Duncan Keith
Bryan Allen is hit hard into the boards by Martin Lapointe while Allen is trying to play the puck up ice. Allen is slow to get up as Todd Bertuzzi goes after Lapointe and a scrum ensues. Allen returns to his feet and starts yapping at Lapointe. The players continue to push and shove as Jarko Ruutu drops his gloves, rips Andy Hilbert's helmet off, and start throwing lefts at him through the linesmen. Away from the pile of players, Keith and Burrows shove each other as Keith quickly drops his gloves and throws two rights before Burrows even has his gloves off. The two fall to the ice and quickly return to their feet as Burrows throws four rights while Keith tries to get an arm free. Keith then wrestles Burrows to the ice and waits for the linesmen to come in. Other Penalties: Jarkko Ruutu received a double roughing and misconduct; Andy Hilbert a roughing.