2005-2006 Regular Season Fight Card
NHL Fights: 5
Date/Time
For
Against
Opponent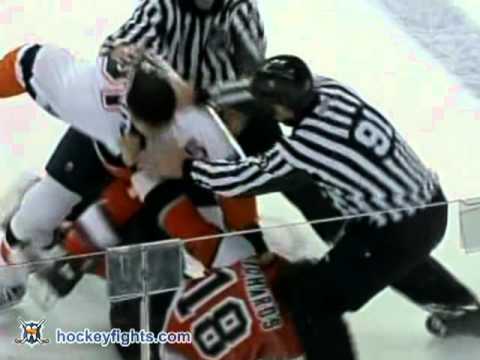 11/10/05
1 Pd 15:32
@PHI
NYI
Arron Asham
Date/Time For Against Opponent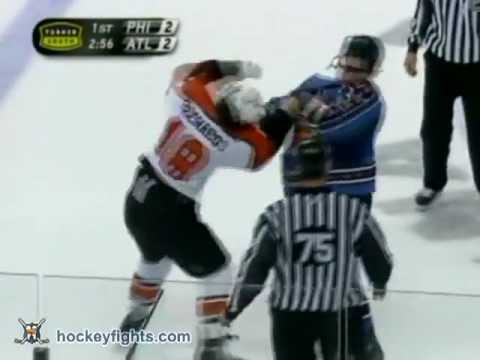 12/28/05
1 Pd 17:4
PHI
@ATL
Garnet Exelby
They start shoving after Brian Savage scores a goal and they drop the gloves near the blueline. Richards throws two rights as Exelby tries to duck under the punches and take Richards' helmet off. Exelby tries to grab Richards' helmet before Richards takes it off himself because he is wearing a visor. Richards throws a jersey-jab as Exelby misses with a couple of locked-out rights. Richards throws two more rights with Exelby returning fire with a right of his own. Richards then misses with a long left as Exelby throws a left while Richards' head is down. Exelby switches hands and throws a few rights before Richards throws two rights of his own. Richards loses his balance and falls to the ice before Exelby throws 3-4 punches while Richards is on his knees.
Date/Time For Against Opponent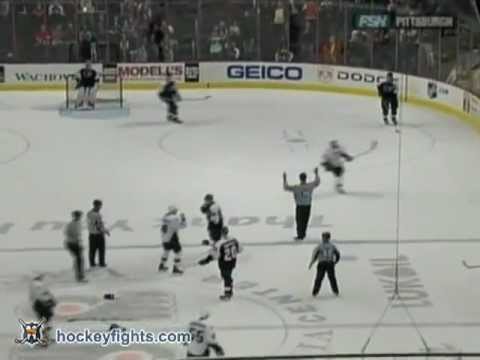 01/23/06
3 Pd 20:0
@PHI
PIT
Shane Endicott
The clock winds down to mark the end of the game as Endicott and Richards drop the gloves, shed their helmets, and square off near the blueline. Richards grabs on as they tie up, each attempting a locked-out right as they struggle to get free. Richards lands a short right and a grazing left before coming up short with a left jab as Endicott moves away from the punch. Richards throws a left jab as Endicott misses with an overhand right, allowing Richards to connect with a right hook that sends Endicott to the ice and the linesmen diving in.
Date/Time For Against Opponent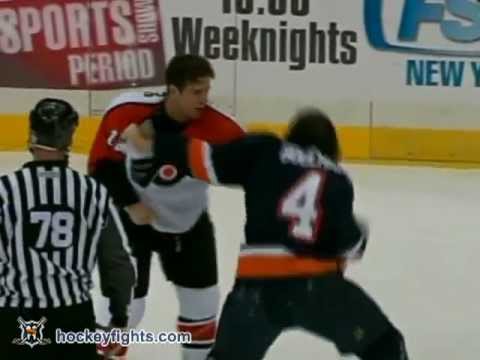 04/02/06
1 Pd 10:41
PHI
@NYI
Joel Bouchard
Richards nails Bouchard with a hard open-ice hit near the side boards. Bouchard gets back up and challenges Richards, who obliges, and they drop the gloves and skate to center ice before locking horns. Richards connects with an uppercut and three overhand rights while Bouchard leans away from the punches. The two go back and forth with rights before Bouchard is able to grabs Richards right arm, preventing him from throwing. Richards gets free and throws an uppercut followed by two rights. Bouchard attempts a locked-out right that misses the target, allowing Richards to switch hands and throw a flurry of left hooks and uppercuts. Richards pushes Bouchard against the bench and throws a body shot-overhand right-uppercut combination while Bouchard fights to get loose. Richards then switches hands and connects with one final left before the linesmen decide that it's time to end the fight, grabbing the two while they fall to the ice.
Date/Time For Against Opponent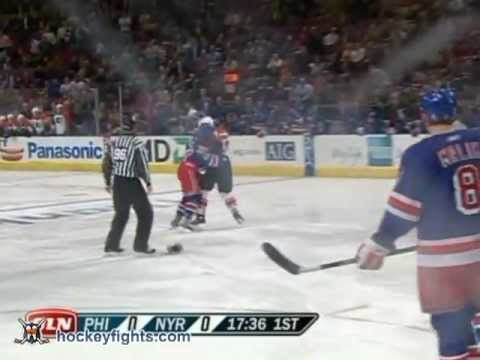 04/04/06
1 Pd 2:24
PHI
@NYR
Ryan Hollweg
Behind the play the two drop the gloves and square off. They grab ahold of each other with Richards throwing two rights and two body shots before trying to take Hollweg's helmet off. Richards then lands two uppercuts and two rights crosses while Hollweg struggles to get loose. Hollweg returns fire with a left and the two go toe-to-toe with punches: Hollweg with lefts, Richards with rights. Richards goes down to his knees but quickly gets back up. The two then throw a couple of wild overhand rights before they fall to the ice.