2005-2006 Regular Season Fight Card
From:
Montreal, QC Canada
NHL Fights: 7
Date/Time
For
Against
Opponent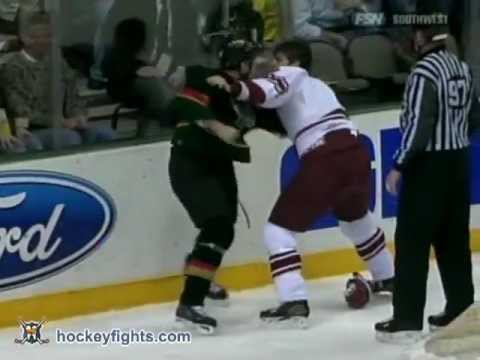 01/23/06
1 Pd 13:50
ARI
@DAL
Brenden Morrow
Date/Time For Against Opponent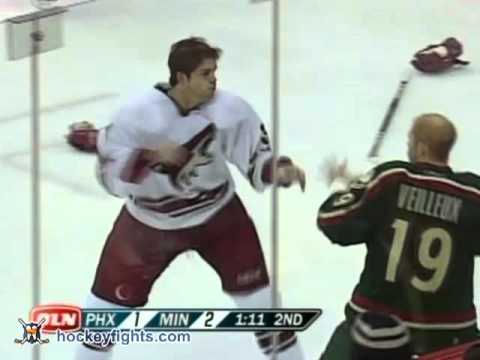 01/24/06
2 Pd 18:49
ARI
@MIN
Stephane Veilleux
The two drop the gloves way behind the play, each removing their helmets while they square off. Gauthier fakes and then connects with a right as he grabs ahold of Veilleux. Gauthier then throws four overhand rights to the back of Veilleux's head while Veilleux is trying to duck away from the punches. They wrestle up against the boards as Gauthier throws a left that almost knocks Veilleux off-balance before landing two body shots. The linesmen come in shortly after.
Date/Time For Against Opponent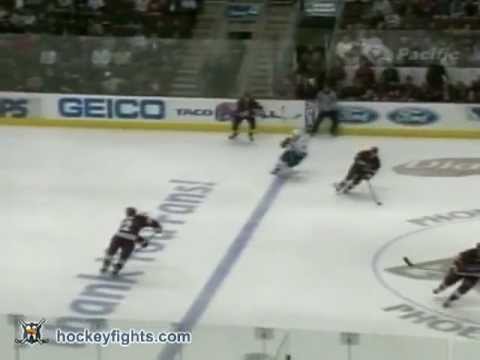 01/31/06
3 Pd 4:27
@ARI
VAN
Tyler Bouck
Gauthier hits Trevor Linden with a hard, open-ice hit. Bouck skates over and immediately challenges Gauthier. They square off, each player removing their helmet. They tie up as Bouck throws two locked-out rights followed by three right crosses, with one of them landing. Gauthier goes down to his knees during the flurry and stays there until Bouck pushes him over onto the ice. The linesmen separate the two and Gauthier rolls over, holding his shoulder in pain.
Date/Time For Against Opponent
Voted winner: Andre Roy (86.3%) - Voted rating: 3.3
Roy passes the puck to Tomas Surovy and then becomes the victim of a hit by Denis Gauthier along the boards. Roy gets back up, drops his gloves, and immediately goes after Gauthier. Roy throws four rights as Gauthier turtles to the ice. Eric Desjardins skates over to help Gauthier as Roy gets one more right in before players and linesmen pile in. Other Penalties: Roy received an instigator, misconduct and game misconduct.
Date/Time For Against Opponent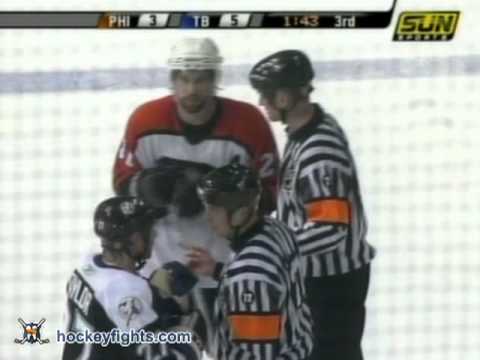 03/17/06
3 Pd 18:17
PHI
@TBL
Vincent Lecavalier
Other Penalties: Lecavalier received an instigator, misconduct and game misconduct.
Date/Time For Against Opponent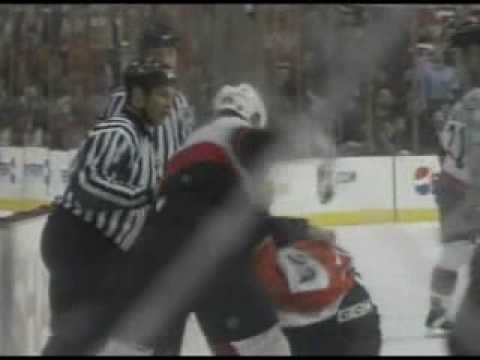 03/25/06
3 Pd 11:56
@PHI
OTT
Chris Neil
Voted winner: Chris Neil (98.8%) - Voted rating: 5.5
Gauthier throws a big check on Bryan Smolinski and Neil's there to challenge him. They drop the gloves, grapple quickly and Neil throws a couple of quick overhand rights. Gauther is bent over and Neil throws a couple of short uppercuts, then mixes it up going over and under, landing at will, while Gauthier is bent over and then turned away. Gauthier keeps his himself turned away and Neil stops throwing, allowing the linesmen to come in. Gauthier skates away with a cut by his left eye. Other Penalties: Neil received a roughing.
Date/Time For Against Opponent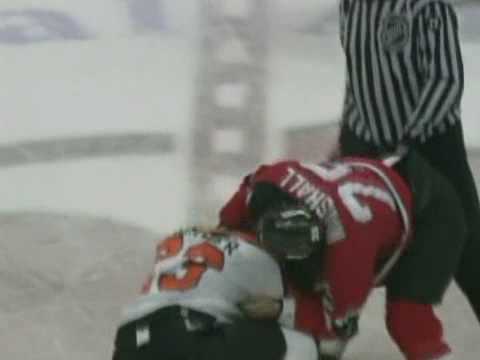 04/16/06
2 Pd 6:32
PHI
@NJD
Grant Marshall
Marshall hits Eric Desjardins hard along the boards, causing Gauthier to skate over and bump Marshall. They shove each other and immediately drop the gloves and tie up. They wrestle around for a short while and Marshall takes Gauthier's helmet off. Marshall throws a right to the back of Gauthier's head and Gauthier responds with a short left. Marshall then gets his left arm free and unloads a flurry of seven lefts and uppercuts, putting Gauthier down to his knees. Marshall gets in a few more lefts while Gauthier is down and the linesmen finally step in. Other Penalties: Marshall received a boarding.