2002-2003 Regular Season Fight Card
From:
Prince George, BC Canada
NHL Fights: 13
Date/Time
For
Against
Opponent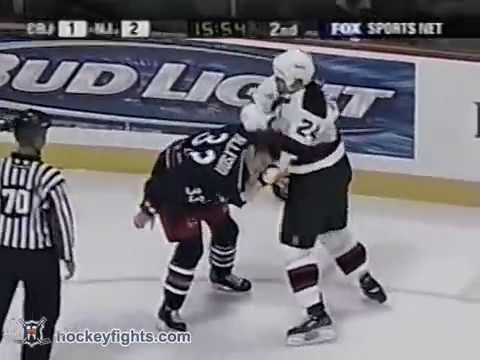 10/12/02
2 Pd 4:6
@NJD
CBJ
Jamie Allison
Date/Time For Against Opponent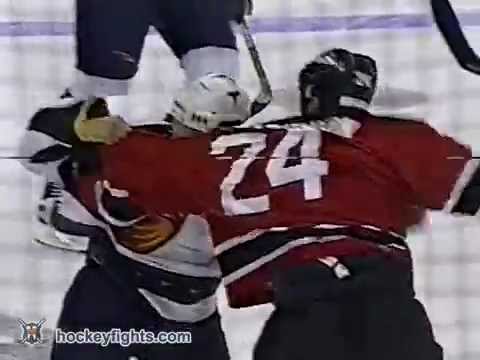 10/23/02
1 Pd 7:31
NJD
@ATL
Chris Tamer
Good spirited bout. Stevenson was throwing many wild rights. Hard to tell how many landed, but Tamer was really outclassed here.
Date/Time For Against Opponent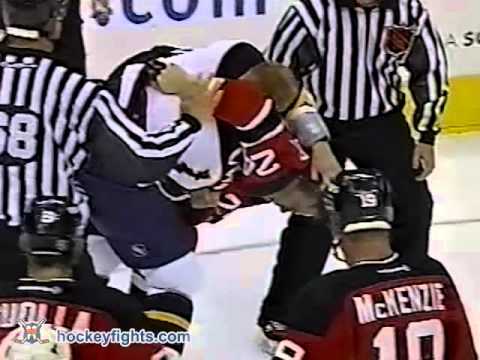 10/23/02
1 Pd 13:40
NJD
@ATL
Jeff Cowan
Awesome toe-to-toe. Stevenson has his head up throwing lefts over the top, while Cowan counters with lefts of his own. Stevenson then knocks him down with a good shot, but to Cowan's credit he gets back up and continues to battle until the linesmen jump in.
Date/Time For Against Opponent
10/25/02
1 Pd 13:7
NJD
@BUF
Eric Boulton
Stevenson drops them first, they dance around. Boulton throws two punches that brush Stevenson's back, Stevenson lands nothing and goes down.
Date/Time For Against Opponent
11/12/02
1 Pd 13:36
@NJD
ANA
Kevin Sawyer
Stevenson is firing, misses a shot and falls. That's it.
Date/Time For Against Opponent
Date/Time For Against Opponent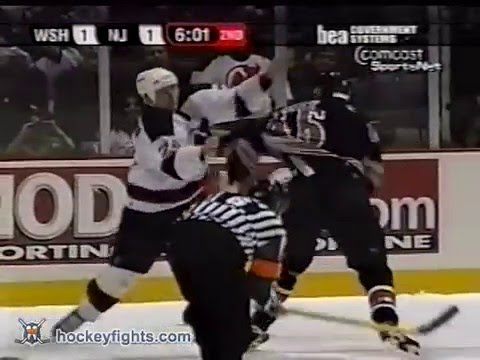 12/28/02
2 Pd 13:59
@NJD
WAS
Alex Henry
The two jockey for position in front of the Caps net and Henry asks Stevenson to dance and the gloves come off with a lot of hugging going on. Henry gets his right arm out of his jersey and Stevenson falls on him and the linesmen jump in. Majors?
Date/Time For Against Opponent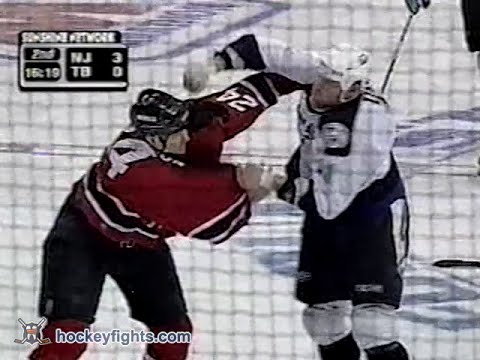 01/11/03
2 Pd 3:41
NJD
@TBL
Chris Dingman
Stevenson landed a huge right, and Dingman came forward slightly and fell down. He was back up in a split second, but the linesmen jumped in. Dingman then put his hand on his nose, and looked at his fingers, as if he thought he might be bleeding.
Date/Time For Against Opponent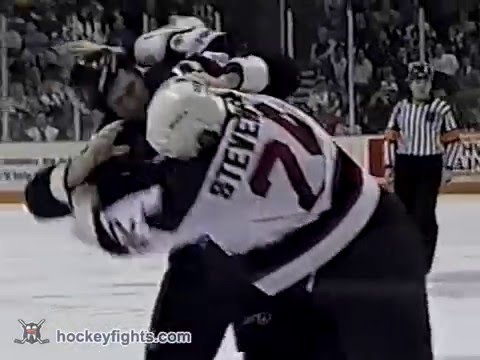 01/22/03
2 Pd 16:56
NJD
@SJS
Bryan Marchment
It happens quickly away from the play, sort of a mutual thing. The gloves come off fast and Marchment goes with the lefts, Stevenson with the rights. Both guys try with several of each and Stevenson goes down with Mush on top. Marchment looked to be doing better and he may have landed something, where as Turner didn't get anything in.
Date/Time For Against Opponent
02/11/03
1 Pd 10:57
NJD
@COL
Chris McAllister
Mac and Stevenson go at it behind the net. The camera was a little late getting there, but when it does they're both swinging wildly. Each guy seems to get in a couple decent punches, then Mac muscles Stevenson down and it's over.
Date/Time For Against Opponent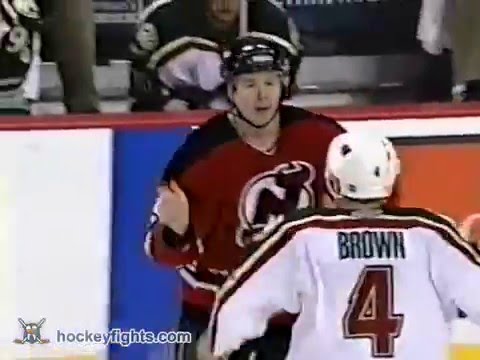 03/04/03
2 Pd 17:52
NJD
@MIN
Brad Brown
Stevenson hits Willie Mitchell hard into the boards and slashes him trying to get a reaction out of Willie. Then Brown comes right over and pushes Turner and it's on. Brown starts out getting a few week shots in and then they grapple for position. Stevenson gets his right free and throws a couple of big shots that don't connect. Brown slips to the ice, but gets up again and they wrestle for the rest of the fight and Brown gets the take down.
Date/Time For Against Opponent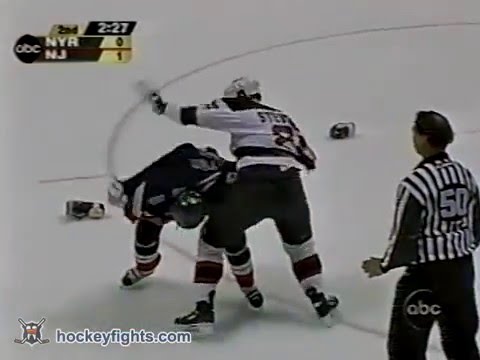 03/15/03
2 Pd 17:33
@NJD
NYR
Dale Purinton
Earlier in the period Stevenson drops the gloves with Purinton, who just turns away. Stevenson gets 2 minutes for unsportsmanlike and looks disgusted that Purinton wouldn't go. Later, they both drop the gloves, but the camera got there very late. Purinton was trying to get his hand free from his jersey, threw a few wild punches that didn't seem to land, and then Purinton falls on top of Stevenson.
Date/Time For Against Opponent
03/28/03
2 Pd 20:0
NJD
@ATL
Garnet Exelby
Stevenson and Odgers hook each other going after the puck, and Stevenson knocks it toward center ice to Rheaume, who is nailed by the freight train Exelby. Turner immediately pursues Exelby and they mutually drop the gloves. Nice squareoff, shedding the elbows and Turner adjusts his helmet ready to fire. They grab on and Exelby lands a couple of short rights, and then they grapple. Turner then misses with a left, then lands one nicely, cutting Exelby on the bridge of his nose. Exelby then is getting ready to fire, but loses his balance and they both fall. This fight was mostly a grapple match and it lasted about 15 seconds, decent fight for what it was.