2003-2004 Regular Season Fight Card
From:
Prince George, BC Canada
NHL Fights: 8
Date/Time
For
Against
Opponent 10/30/03
2 Pd 10:43
@NJD
PHI
Todd Fedoruk
Date/Time For Against Opponent 11/12/03
3 Pd 2:44
NJD
@BUF
Eric Boulton
Off the faceoff they agree to go. Nice squareoff, Bouloton tries to grab on, but Stevenson gets his hand out of his jersey, so they squareoff some more, then grab on. Boulton has his left hand wrapped around Stevenson's neck and they are trading rights to the back and side of each other's helmets while spinning around. Boulton then throws Stevenson to the ice.
Date/Time For Against Opponent 11/15/03
3 Pd 0:4
@NJD
NYR
Chris Simon
Right at the faceoff that started the third period Stevenson and Simon drops the gloves. Simon tries about five punches and connects with a couple in the back of the head and gets the takedown. Stevenson tried a couple, but didn't really connect with anything.
Date/Time For Against Opponent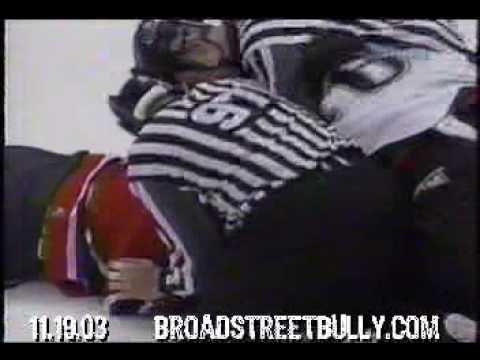 11/19/03
2 Pd 10:13
@NJD
BUF
Andrew Peters
Down 4-0 Peters sends Stevenson an invitation. They squareoff, come together and Peters starts with a couple rights, maybe landing one. Stevenson throws a couple of his own, all connecting to helmet and side of the head. Stevenson slips to the ice and Peters throws in one more as the linesmen come in.
Date/Time For Against Opponent 01/31/04
2 Pd 13:54
NJD
@STL
Bryce Salvador
Devils go up by two and Salvador hits Stevenson. They start skating away and then Salvador turns around and drops one glove. They look at each other and decide to go, no squareoff. They grapple for a bit and Salvador throws a few, two of which seem to at least land decently. Turner comes back with a few lefts of his own, and as Salvador throws a right, Turner throws one that lands flush. That gets Bryce off-balance and Turner takes him down.
Date/Time For Against Opponent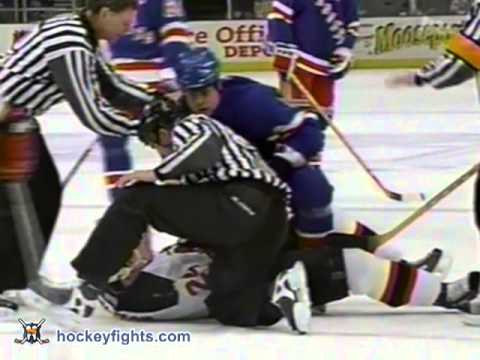 02/21/04
1 Pd 16:12
NJD
@NYR
Dale Purinton
The Rangers are in the offensive zone and Brodeur makes a couple of great saves. The puck goes into the corner and these two are already going at it. They're hugging, in-tight, each throwing some left noogies, possibly three each, then they grapple to the ice.
Date/Time For Against Opponent 03/06/04
1 Pd 15:2
NJD
@CAR
Jesse Boulerice
Boulerice hits Stevenson midway through the first period and the two decide to go. After skating half-way across the ice the two engage in a short bout. Stevenson is the aggressor early, but doesn't land anything and can't pull Boulerice down. Boulerice then takes over and lands a couple of solid punches while pulling Stevenson down.
Date/Time For Against Opponent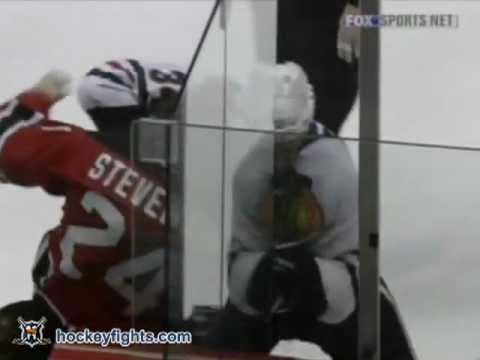 03/11/04
2 Pd 5:32
@NJD
CHI
Jason Strudwick
Stevenson lightly checks Strudwick along the boards. They give each other shots and then grab on. Pretty long fight with not too many power-punches thrown. Each man maybe landed one half-way solid punch. Many to the helmet before they hit the ice.