2003-2004 Regular Season Fight Card
NHL Fights: 4
Date/Time For Against Opponent 01/03/04
3 Pd 0:23
@MON
ATL
Chris Tamer
Tamer goes for retaliation after Souray knocks Ben Simon down. They drop em near Theodore. Souray gets rid of his right elbow pad quickly, but Tamer has him tied up pretty well. Not a lot of throwing, more wrestling, and Souray sneaks in a punch and brings Tamer down. He gets back up, and Souray threw a few more punches as they both go down again. Other Penalties: Souray received a double roughing; Tamer a slashing.
Date/Time For Against Opponent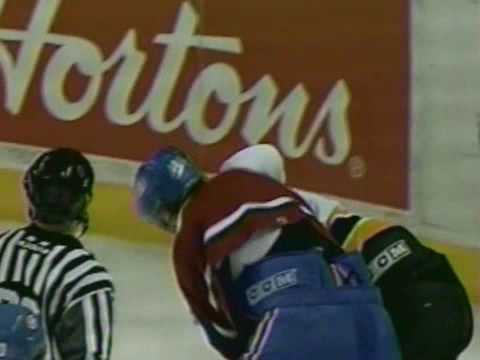 01/31/04
1 Pd 20:0
@MON
BOS
Sean O'Donnell
Souray enters the scrum and goes right for O'Donnell and they drop the gloves and grab on. They jockey for position and Souray gets O'Donnell's jersey up over his face. O'Donnell throws a right, which misses, as Souray is shaking off his eldow pad. Souray lands a right to the ribs and O'Donnell goes down. Souray then throws an overhand right landing on O'Donnell's back. Other Penalties: O'Donnell received a slashing; Souray an instigator and misconduct; Saku Koivu a slashing.
Date/Time For Against Opponent
Not much of a fight because the two linesmen wouldn't get out of the way. Souray might have landed a punch, but that's a maybe, and all there was. Souray lost his equipment, and was kicked out of the game. Other Penalties: Brooks Orpik received an interference; Souray a cross checking and game misconduct.