2005-2006 Regular Season Fight Card
NHL Fights: 4
Date/Time
For
Against
Opponent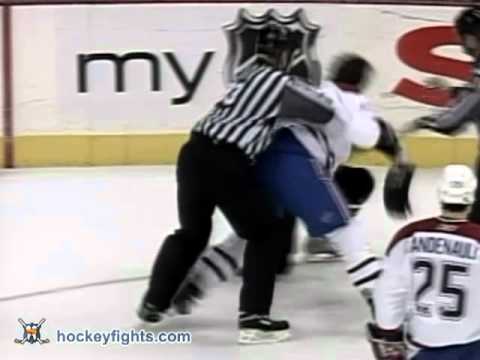 12/23/05
1 Pd 11:51
MON
@WAS
Chris Clark
Date/Time For Against Opponent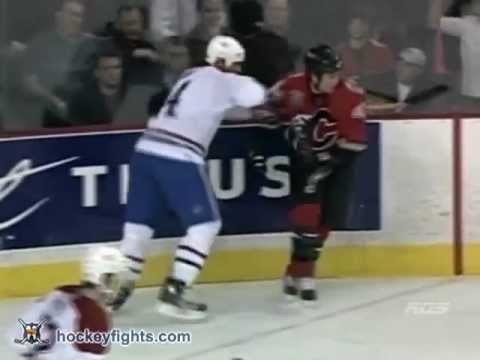 01/19/06
1 Pd 12:15
MON
@CAL
Darren McCarty
McCarty hits Souray hard along the boards as Souray shoves McCarty in retaliation. They start talking as Craig Rivet skates over and gives McCarty a cross-check before skating away. Souray and McCarty then drop the gloves and square off. Souray grabs on and throws a right before McCarty returns fire with four lefts of his own with Souray landing a left during the exchange. McCarty switches hands and throws a right before Souray throws two rights. They go back and forth with punches: both trading lefts including Souray landing one that stuns McCarty for a short moment. McCarty misses with a right as Souray puts his head down. They wrestle around trying to get loose as blood streams down McCarty's face. They continue to grapple as Souray rips McCarty's helmet off before they each miss with a left. Souray throws two lefts with one landing before they wrestle up against the glass. McCarty lands three quick lefts as Souray misses with an overhand left before the linesmen come in and end the scrap. They talk for a little bit before going their seperate ways as both guys skate back to the dressing room: McCarty for repairs on a cut that has blood streaming down his face; Souray to clean his blood-stained helmet. Souray was wearing a brace on his wrist and was tossed out of the game for it. Other Penalties: Souray received an attempt to injure penalty.
Date/Time For Against Opponent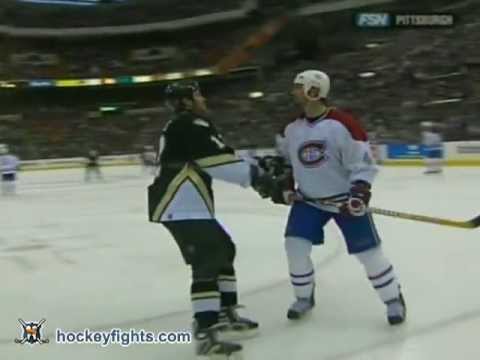 03/26/06
3 Pd 7:57
MON
@PIT
Ryan Malone
Malone takes a run at Souray while he plays the puck up ice, leading to both exchanging a few cross checks before they drop the gloves. The two throw simultaneous rights before Malone loses his balance and goes down to his knees. Souray connects with a right while Malone is falling. Souray then switches hands and throws some lefts to a turtled Malone before the linesmen come in.
Date/Time For Against Opponent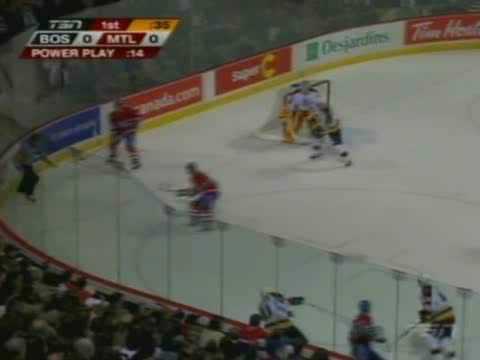 04/04/06
1 Pd 19:37
@MON
BOS
Andrew Alberts
Alberts sends Michael Ryder to the ice with a knee-on-knee hit, prompting Souray to skate over and challenge Alberts. Souray gets Alberts' jersey up and over his head, allowing him to throw eight straight uppercuts with both hands. Alberts throws three blind rights with two connecting while Souray continues to throw rights. The two then fall to the ice and the linesmen quickly jump in. Other Penalties: Souray received an instigator and misconduct.