2002-2003 Regular Season Fight Card
AHL Fights: 2
Date/Time
For
Against
Opponent 02/05/03
2 Pd 7:20
SPR
@BIN
Dennis Bonvie
Date/Time
For
Against
Opponent 02/28/03
2 Pd 2:20
@SPR
HFD
Garrett Burnett
NHL Fights: 11
Date/Time For Against Opponent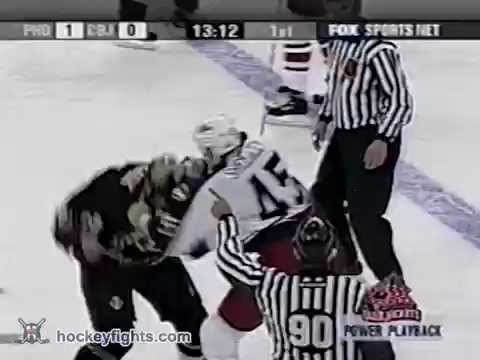 10/14/02
1 Pd 6:48
ARI
@CBJ
Jody Shelley
Nice fair square off. Hordichuk dives in head down in an attempt to grab on. Shelley grabs his shoulders. Hordi is able to come in with a right that glances off Shelley's helmet and Jody follows by doing the same. A weak right by Hordichuk misses everything and then he evades a Shelley right. Poor camera angle now. Looks like Darcy lands a straight right to the face. Both guys throw rights that ain't doing nothing. They're going toe to toe now. Rights in stereo land from both combatants: Hordi to the face and Shelley to the helmet. Shelley lands a forearm to Hordichuk's helmet. Darcy needs to get his head up, he must be having nightmares of Anglestad... A right from Darcy gets nothing. And again. Shelley's elbow pad has come down over his right hand. Jody tries what looks to be an uppercut which just misses and allows Hordichuk to nearly land a brutal left cross; It may have skipped across Jody's nose. They both fire again: Jody with the right which misses and Darcy with the left which may have landed. Damned camera angle obscures the punch. Jody fires two more rights but they're just not on target. Hordichuk is landing a couple of rights in the meantime. They both go with rights again and neither seem to connect, but Hordichuk starts to go off balance in the exchange. Off balance, Darcy lands a heavy right to the helmet and his teetering helps him avoid a Shelley right. Both guys are in the spin cycle and fire. Hordichuk misses with the left and Shelley with a nothing right. Jody comes again with a heavy right to the shoulder and then with a big right to the mush. That may have stunned Darcy as he appears to buckle a little and goes down. Jody has grabbed on and falls on top of his opponent. The linesmen are in now and it is over. Not much grabbing here folks.
Date/Time For Against Opponent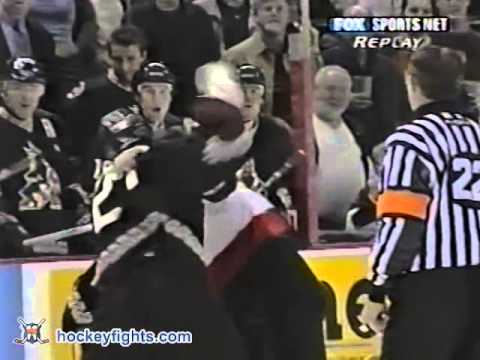 10/15/02
2 Pd 2:20
ARI
@OTT
Dennis Bonvie
Hordi just pounds on Bonvie early on with about 4 to 5 rights all on target. Bonvie finally gets it together with some lefts to slow Hordi down a tad. Hordi then fires a few more and busts Bonvie's nose wide open. Bonvie is bleeding hard and is stunned. Bonvie finishes off with a couple of heavy uppercuts, with one nailing Hordi hard on the chin, which slows him down a bit.
Date/Time For Against Opponent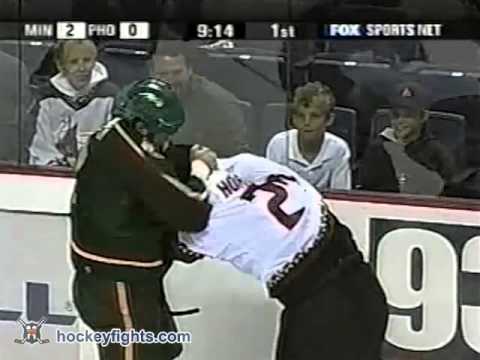 10/26/02
1 Pd 10:46
@ARI
MIN
Matt Johnson
Johnson and Hordichuk meet up and Johnson has a much better showing with a series of rights to Hordichuk. Looked like Hordichuk got some blows in as you could see welts on both as they skated off the ice.
Date/Time For Against Opponent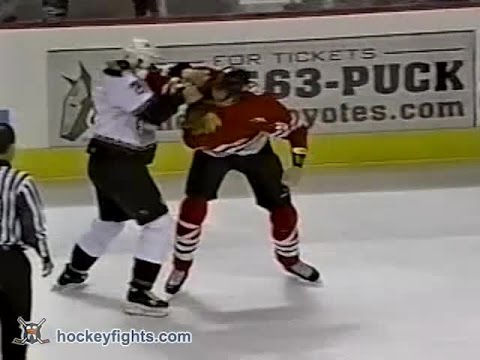 11/28/02
1 Pd 3:6
@ARI
CHI
Jason Strudwick
After the short squareoff they tie up, Hordichuk trying to get his right free from Strudwick's crossgrip. Strudwick breaks open with good lefts while holding onto Hordichuk's right sleeve. Hordichuk tried some lefts, but nothing really connecting, so he goes back to throwing with the right and catches Strudwick with a good one that makes his nose bleed a bit. They trade for a few seconds more, Strudwick looking to get the upperhand for most of the fight although nothing damaging really lands from him. Close fight.
Date/Time For Against Opponent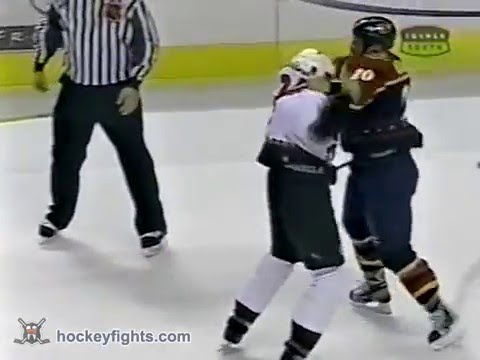 12/11/02
1 Pd 8:36
@ARI
ATL
Jeff Odgers
The Teacher and the Pupil. Darcy comes out firing the piston. He lands 4 or 5 in rapid succession. One of them to the cheek, opening up some prior stitches. Another opens the bridge of the nose. Odgers fires a few of his own including an uppercut that draws a trickle of blood from Hordi's nose. The old man has had enough and throws the young buck to the floor.
Date/Time For Against Opponent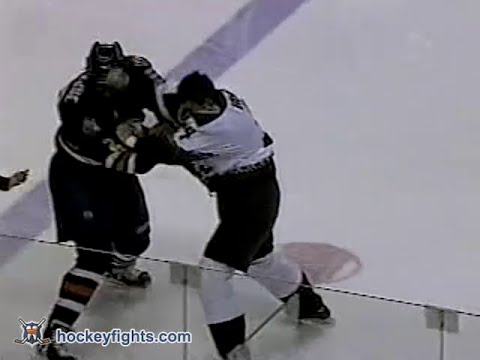 12/30/02
1 Pd 6:22
@ARI
EDM
Georges Laraque
They square off, Hordi loses a contact lense, and they just pick up unsportsmanlikes. With Hordichuk's contact back in place these guys are ready to go and go they do. Hordichuk started going fast with the rights as Laraque gets Darcy's helmet off. They then go rapid fire with Hordichuk thowing rights and Laraque lefts. Laraque's punches however are doing more and Hordichuk goes down from the barrage of punches.
Date/Time For Against Opponent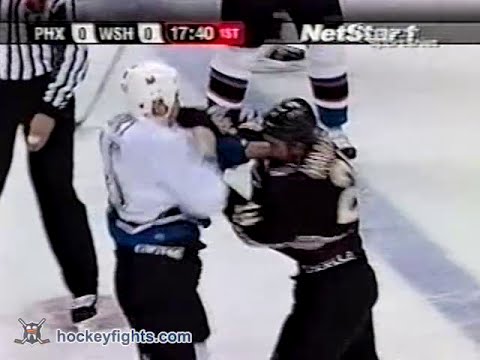 01/01/03
1 Pd 2:20
ARI
@WAS
Alex Henry
About 3 min. into the game Hordi and Henry sqaure off at center ice. The camera was slow to get there, but when it did they were both going toe to toe, both throwing and landing with each hand. Henry then pushes off of Hordi and hits him squarely. Hordi then gets him back, and they fall.
Date/Time For Against Opponent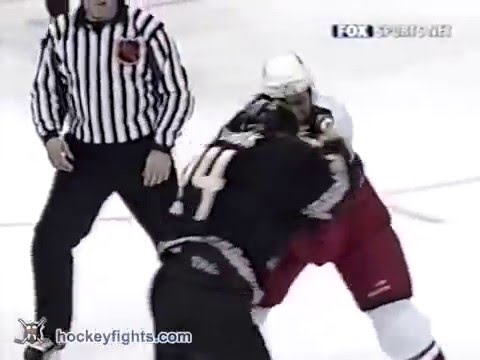 01/04/03
1 Pd 12:36
ARI
@CBJ
Jody Shelley
Good fair sqaureoff and a toe to toe fight that follows. Looked like each guys landed some without causing any major damage. Hordi goes off balance and is push-punched to the ice by Shelley.
Date/Time For Against Opponent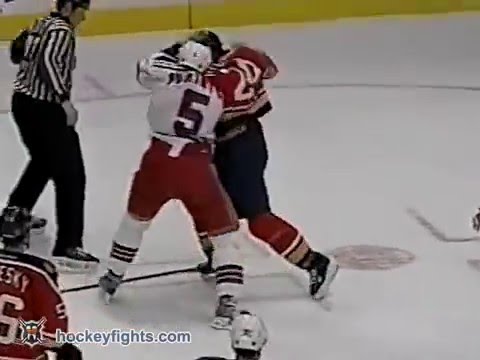 03/10/03
2 Pd 16:18
FLA
@NYR
Dale Purinton
Fast start (what else is new for a Hordi fight?) as each grabs on and starts chucking. Dale lands a big right early, but Darcy isn't fazed and comes back firing the rights, landing a couple. Both start to trade toe-to-toe, then Purinton tries to get a good hold, but fails and falls down. Back up he comes and its toe-to-toe again. Not a ton landing, but it's a good one. Dale lands another big right, but Darcy answers with a couple of beauties. Finally Dale ducks, Darcy misses, and down they go with Purinton on top.
Date/Time For Against Opponent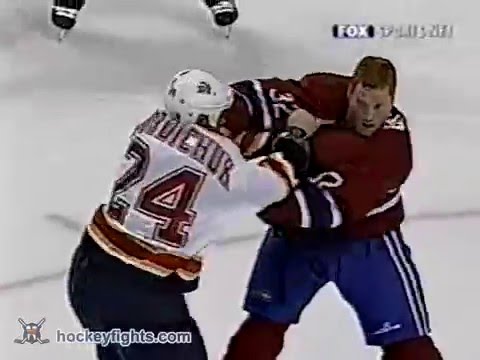 03/12/03
2 Pd 2:32
@FLA
MON
Gordie Dwyer
Starts in the Montreal zone. Both come together and drop the gloves. Dwyer starts with three quick rights, all softly landing. Hordichuck then misses with a left and switches to the right as Dwyer switches to the lefts. Hordichuck starts spinning Dywer and starts throwing big rights with most missing, landing one weak shot. Hordichuck then tries to swing with the left and misses. Having more control he goes back to the right and throws a few more rights, missing with three, but lands another weak shot as Dwyer tries to stop spinning, but ends up falling with Hordichick on top.
Date/Time For Against Opponent
03/15/03
2 Pd 7:56
FLA
@BOS
Krzysztof Oliwa
Oliwa and Hordichuk just went at it right off the faceoff. Oliwa was clearly the bigger and stronger fighter and used it to his advantage and basically dominated this fight.