2005-2006 Regular Season Fight Card
NHL Fights: 11
Date/Time
For
Against
Opponent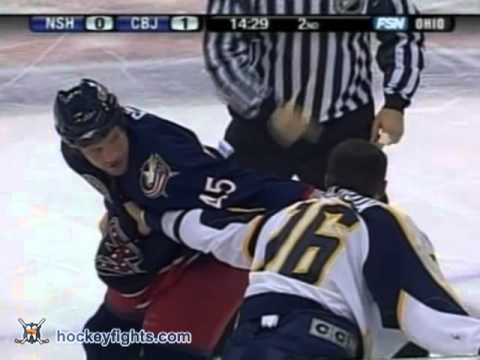 10/26/05
2 Pd 5:31
NSH
@CBJ
Jody Shelley
Date/Time For Against Opponent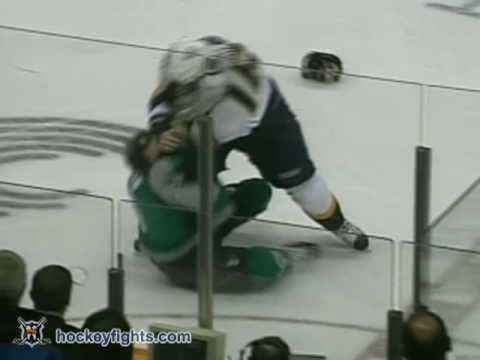 11/02/05
1 Pd 7:16
NSH
@SJS
Mark Smith
Hordichuk lands a nice, clean hit on Marleau at the blueline. Smith immediately goes after Hordichuk. Hordichuk drops the gloves in defense and nails Smith with a right hand, causing Smith to go down to the ice. As Smith gets back up, Hordichuk lands two more rights, knocking Smith down again. Hordichuk lands another right while Smith is down. Other Penalties: Smith received an instigator and misconduct.
Date/Time For Against Opponent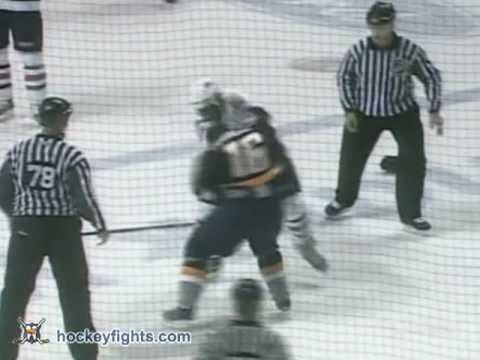 11/08/05
1 Pd 10:29
@NSH
EDM
Georges Laraque
Hordichuk shoves Syvret into Markaanen and in comes Laraque and off come the gloves. Hordichuk comes in quickly as Laraque ducks a quick left. Laraque grabs on and begins to furiously throw right hands. Hordichuk starts returning fire and the two go toe-to-toe with Laraque getting in more shots. Hordichuk loses his balance, allowing Laraque to throw three more rights before Hordichuk tackles him to the ice.
Date/Time For Against Opponent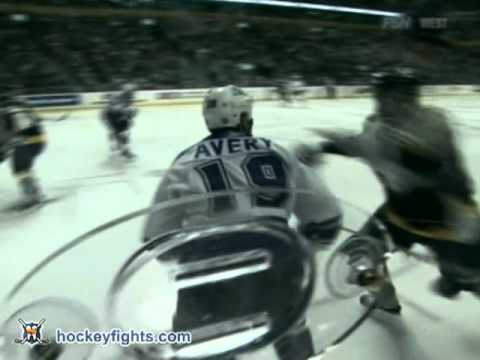 11/24/05
3 Pd 4:26
@NSH
LAK
Sean Avery
Avery nails Paul Kariya into the boards from behind down at the Kings end of the ice. As play continues, Avery goes up ice and joins the rush. Hordichuk comes off the bench and goes right after Avery, hitting him hard against the boards. Hordichuk drops his gloves and starts throwing rights as Avery turtles to the ice. Tim Gleason tries a head-first dive into Hordichuk, but misses and takes a linesman with him, allowing Hordichuk to throw a couple of more rights until the linesmen finally come in. Other Penalties: Hordichuk received an instigator, misconduct and game misconduct.
Date/Time For Against Opponent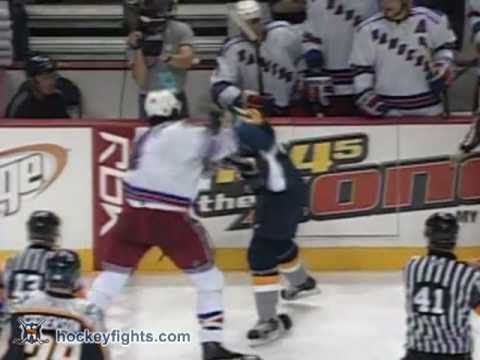 12/08/05
2 Pd 2:51
@NSH
NYR
Jason Strudwick
They drop the gloves in front of the benches and tie up. Hordichuk throws a right as Strudwick comes back with a right of his own. Hordichuk throws a right and then leans back as Strudwick throws a couple of shots that fall short. Hordichuk cocks his right and misses with an uppercut as he pushes Strudwick against the boards in front of the benches. They wrestle around for a little before Strudwick throws a flurry of quick rights, with Hordichuk returning fire with a big left. Strudwick presses Hordichuk against the boards as Hordichuk turns around and throws a right, Strudwick a left. They exchange punches before Strudwick throws another flurry of rights. They spin around and struggle to get loose until the linesmen come in.
Date/Time For Against Opponent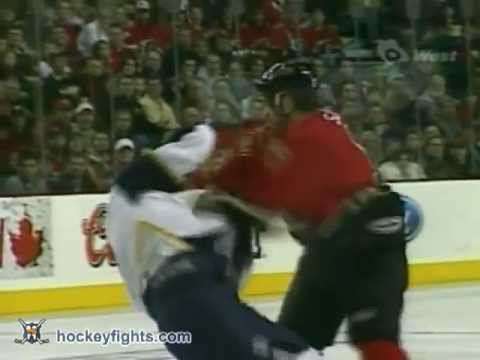 12/27/05
1 Pd 3:14
NSH
@CAL
Chris Simon
Simon shoves Hordichuk behind the play before they drop the gloves near the blueline. They quickly exchange punches: Simon with lefts; Hordichuk with rights. Simon then lands a left that nearly knocks Hordichuk off-balance. Hordichuk then switches hands and start throwing rights as Simon throws a few more lefts. Simon misses with a left as Hordichuk throws a few rights that knock Simon's helmet off. Simon then loses his balance and falls to the ice taking Hordichuk with him as he falls.
Date/Time For Against Opponent
01/15/06
2 Pd 5:58
@NSH
PIT
Max Talbot
Hordichuk nails Zigmund Palffy with a big open-ice hit at the blueline. Talbot goes right after Hordichuk as Darcy skates away and the two quickly drop the gloves. Hordichuk throws three rights as Talbot tries to move away from the punches. They then throw simultaneous rights as Hordichuk's punch connects and stuns Talbot. Hordichuk then throws a body shot and an overhand right before Talbot throws two lefts. Hordichuk lands a right to the back of Talbot's head before the two fall to the ice. Other Penalties: Talbot received an instigator and misconduct.
Date/Time For Against Opponent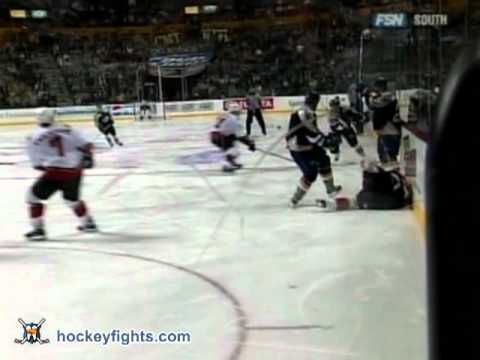 03/18/06
2 Pd 3:51
@NSH
CAL
Darren McCarty
Other Penalties: Hordichuk received an interference.
Date/Time For Against Opponent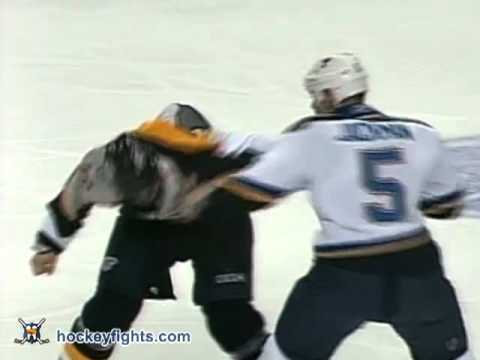 03/20/06
1 Pd 6:37
@NSH
STL
Barret Jackman
Other Penalties: Jackman received an instigator and misconduct.
Date/Time For Against Opponent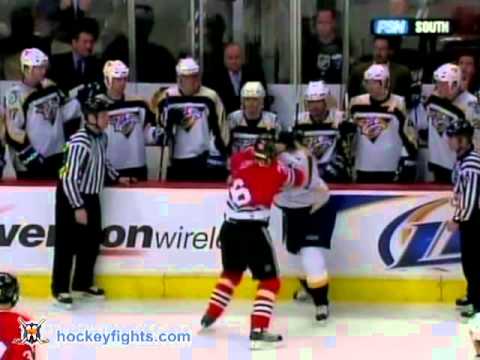 04/05/06
2 Pd 0:22
NSH
@CHI
Matthew Barnaby
Hordichuk checks Rene Bourque along the boards and Barnaby comes in and challenges him. They quickly drop the gloves and grab ahold of each other. Hordichuk throws a quick over-under right combo, nothing landing. Barnaby returns fire with a right that also comes up short. They grapple and Hordichuk throws a right that misses. Hordichuk has Barnaby up against the glass and throws a couple of more rights with one possibly landing. Barnaby is holding Hordichuk off with his left arm and Hordichuk slides under it and then lands an over-the-top right, following it up with another that might have landed as well. They circle and Hordichuk mixes in an uppercut. Hordichuk has Barnaby awkwardly against the boards again and they slide over to the Preds' bench. They continue to wrestle around and Barnaby attempts a noogie on to the back of Hordichuk's head. Barnaby lands a couple of short rights and Hordichuk misses with a big right. Hordichuk then throws another big right that might have gotten the back of Barnaby's head. Barnaby, skating backwards, loses his balance and falls.
Date/Time For Against Opponent 04/08/06
2 Pd 6:6
@NSH
CHI
Mike Brown