2002-2003 Regular Season Fight Card
From:
Stittsville, ON Canada
NHL Fights: 3
Date/Time
For
Against
Opponent 11/23/02
2 Pd 18:13
SJS
@PIT
Dan LaCouture
Date/Time For Against Opponent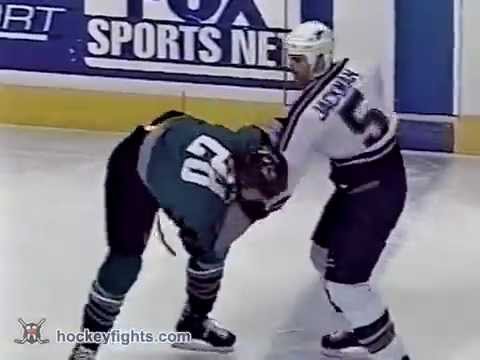 11/25/02
3 Pd 15:31
SJS
@STL
Barret Jackman
Bradley lands stuff to the shoulders. Hugging, and Jackman has it cocked. Nobody's throwing, they just look at each other, then Jackman starts to do his thing. Lands 3 or 4 shots to the face and the guy is clearley outmatched. Bradley tries to fire back, but nothing is landing. Other Penalties: Bryan Marchment received an attempt to injure match penalty; Pavol Demitra a roughing; Keith Tkachuk, Mark Smith, Bradley and Jackman misconducts.
Date/Time For Against Opponent 02/24/03
2 Pd 17:50
@SJS
CAL
Steve Montador
They were spinning around both throwing hands, looked like Bradley was in conrtol of the fight a little more because Montador's jersey wasn't tied down (was tossed for that). Bradley got a couple uppercuts in on him while Montador was swinging wildly, but also landing. Bradley then had the take down. Other Penalties: Montador received a game misconduct.