2003-2004 Regular Season Fight Card
From:
Stittsville, ON Canada
NHL Fights: 11
Date/Time
For
Against
Opponent 10/25/03
2 Pd 15:13
PIT
@NYI
Jason Wiemer
Date/Time For Against Opponent 11/22/03
3 Pd 1:48
@PIT
OTT
Shane Hnidy
Bradley goes behind Ottawa's net to play the puck. Hnidy comes in and blasts him into the boards. Bradley goes after Hnidy and they drop em. Hnidy landed most of the punches and Bradley got the takedown. Bradley had a bloody lip. Not real sure if it was from a punch or from being driven into the boards.
Date/Time For Against Opponent 12/07/03
2 Pd 6:6
PIT
@CAL
Steve Montador
They drop them in the Flames zone and Bradley throws about 5 or 6 rights missing badly, then pops Montador with a solid right to the side of the head. He then continues to miss a right, and throws an uppercut while Montador misses a blind left. Montador lands a nothing left to Bradley's throat. Bradley brings an awkard right down on the back of Montador's head. Bradley has Montador's jersey and is pulling Montador down and into him.Bradley misses an uppercut, then a right to the back of Montador's neck. Montador throws two blind lefts that miss and Bradley tosses him on his head.
Date/Time For Against Opponent 12/13/03
3 Pd 7:43
@PIT
CBJ
David Ling
Date/Time For Against Opponent 01/13/04
2 Pd 16:5
@PIT
TBL
Nolan Pratt
They shove along the bench, Pratt challenges Bradley and off come the gloves. They were going toe to toe with both guys firing rights and landing two or three good shots each. Pratt seemed to have landed the best punch that bent Bradley over, but that didn't slow him down much. They continued to throw, but not much landed after that because they were running out of gas from being so active. The linesmen were finaly able to pull them apart.
Date/Time For Against Opponent 02/14/04
1 Pd 11:3
PIT
@STL
Matt Walker
These two were about to go at it, but the linesman broke it up. Both guys got two minutes for roughing. As soon as the penalties end they come out and square off. They got in pretty tight and both guys landed a couple of decent punches, then Bradley got tangled up in his jersey and Walker landed a good one. Bradley got his right free and landed a couple with one good one putting Walker down.
Date/Time For Against Opponent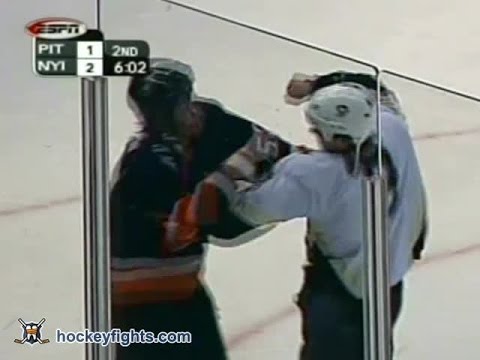 02/29/04
2 Pd 13:58
PIT
@NYI
Sven Butenschon
It happens behind the play and when the camera gets there Bradley is throwing a couple of rights that don't appear to do much damage. Sven has his right arm all tied up in his jersey the entire fight and he is unable to throw a punch as Bradley has a hold of his left arm with his left. Bradley throws a couple of more rights, a little wildly, that just graze Sven and then they go down with Bradley on top.
Date/Time For Against Opponent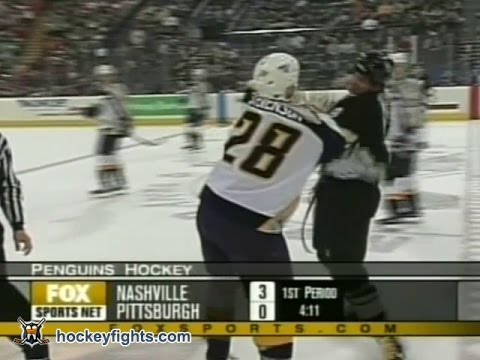 03/04/04
1 Pd 15:49
@PIT
NSH
Jeremy Stevenson
Camera gets there a little late and Bradley is landing a couple rights on Stevenson, who then tries to get Bradley locked out. Bradley continues throwing rights that are coming up short, and Stevenson throws a few rights that also land. Bradley then falls and pulls Stevenson down and the linesmen come in.
Date/Time For Against Opponent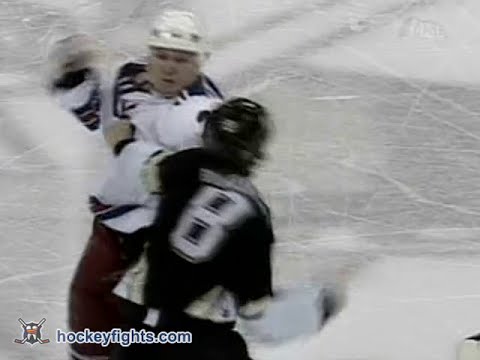 03/21/04
1 Pd 5:18
@PIT
NYR
Garth Murray
These two drop em off of a faceoff after a Pens goal. Both throw a couple of rights that miss. Murray comes up short with a right while Bradley hits the neck of Murray with a right. Bradley misses a right as Murray tries to get free. Murray throws a weak right that may have hit Bradley's throat/chin then throws another right as Bradley throws a right that misses or barly grazes Murray's eye, causing him to duck. Bradley then throws two rights over the ducking Murray's head. They grapple and Bradley loses his balance and goes down with Murray on top.
Date/Time For Against Opponent
Voted winner: Adam Mair (75.6%) - Voted rating: 6.8
These guys drop the gloves in the neutral zone and start to swing away. Mair with lefts, Bradley with rights. Mair lands a few lefts, including a really solid shot and Bradley lands a few big rights. They fall and get back up, and it looks like Mair starts to take over at the end and lands a big left that pops Bradley's helmet off and bends him over. Bradley straightens up and throws a wild right, but Mair ducks it. This sends Bradley off-balance and he goes down.
Date/Time For Against Opponent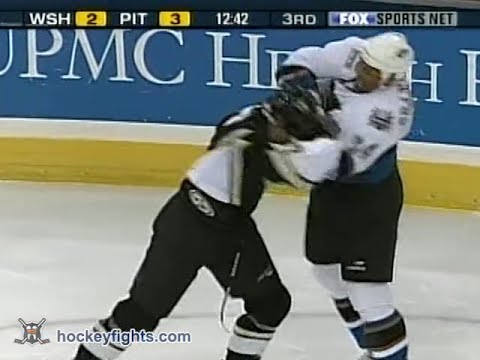 04/04/04
3 Pd 7:18
@PIT
WAS
Jean-Luc Grand-Pierre
JLGP runs Koltsov and Bradley comes in. They start out both throwing rights and both land with JLGP looking to have more steam on them. JLGP throws a couple more rights before he ragdolls Bradley to the ice.