2005-2006 Regular Season Fight Card
From:
Stittsville, ON Canada
NHL Fights: 8
Date/Time
For
Against
Opponent 10/07/05
2 Pd 18:19
@WAS
ATL
Scott Mellanby
Date/Time For Against Opponent 10/22/05
2 Pd 16:25
@WAS
CAR
Mike Commodore
There's a scrum in front of the net and these two separate from the pack. Commodore has good position and lands four quick rights. Bradley didn't seem to land any, and he gets the takedown after some wrestling.
Date/Time For Against Opponent
The two meet up along the boards and drop the gloves. Bradley is swinging away with huge wild right hands while Mair is attempting to gain position. One of Bradley's rights connects and Mair looks to be stunned for a split second. Mair regains his composure and starts throwing lefts while Bradley continues to throw wild rights. Mair switches hands and may have connected with a right while Bradley switches to the left. Bradley gets Mair bent over and throws a wild left to the back of the helmet of Mair and they both tumble to the ground.
Date/Time For Against Opponent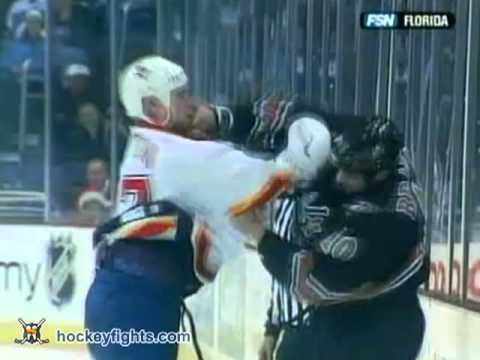 12/18/05
3 Pd 16:56
@WAS
FLA
Chris Gratton
Gratton checks Bradley into the boards and starts to skate away as Bradley gives Gratton a shot with his stick in retaliation. They drop the gloves and tie up, each trying to get their right hand free. Bradley throws a locked-out right as they both get free and start going toe-to-toe with rights. Bradley ducks down, switches hands, and throws a left. They wrestle around before Bradley throws a short right while Gratton tries to get his right hand free. They each throw a couple of locked-out rights before the linesmen come in and end the scrap.
Date/Time For Against Opponent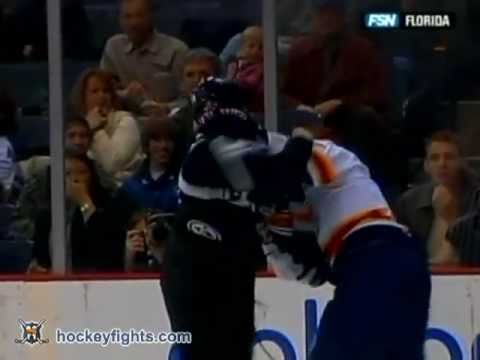 12/18/05
2 Pd 6:58
@WAS
FLA
Chris Gratton
They drop the gloves near the boards and tie up. They each attempt a couple of overhand rights as they struggle to get loose. Both get free and start exchanging right hands; Bradley throwing and landing more punches early with Gratton coming back with a flurry of his own late. Gratton then lands a right that knocks Bradley to the ice. Gratton throws a short right as the linesmen dive in to stop the fight.
Date/Time For Against Opponent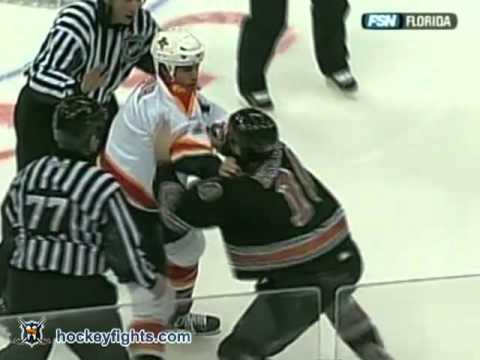 01/08/06
1 Pd 4:7
@WAS
FLA
Steve Montador
They drop the gloves at center ice and grab on as Montador lands two lefts that immediately drop Bradley. Bradley gets back up and throws a right as Montador throws 4-5 more lefts while Bradley is bent over. Montador continues to throw numerous lefts, connecting with some as Bradley throws a few rights in response during the flurry. Montador then loses his balance and falls to the ice as Bradley gets in two rights while he is down.
Date/Time For Against Opponent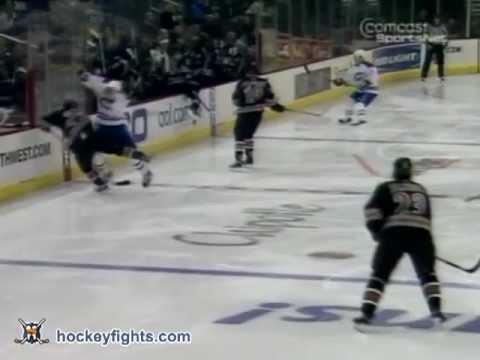 03/20/06
2 Pd 1:11
@WAS
MON
Garth Murray
Date/Time For Against Opponent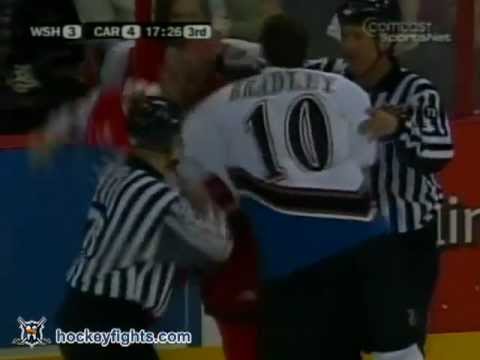 04/03/06
3 Pd 2:34
WAS
@CAR
Craig Adams
Adams throws a hip check at Bradley along the benches. Bradley then slashes Adams, causing Adams to turn around and the two to drop the gloves. Bradley starts things off with four rights. Bradley misses with an overhand right, giving Adams the opportunity to tie him up. Bradley then gets free and lands a wide right before the two exchange simultaneous rights. Adams wrestles Bradley down to the ice, but the two quickly return to their feet. Bradley throws an overhand left and the two wrestle around until the linesmen come in. Adams cocks back his right hand to throw a punch but one of the linesmen grabs him before he is able to throw.