2001-2002 Regular Season Fight Card
From:
Port Chester, NY United States
NHL Fights: 13
Date/Time
For
Against
Opponent 10/04/01
3 Pd 15:57
@OTT
MON
Stephane Quintal
Date/Time For Against Opponent 10/25/01
3 Pd 8:42
OTT
@PHI
Luke Richardson
Whistle blows, and Richardson goes after Roy quickly dropping the gloves and taking no time to start punching. Richardson is throwing rights, Roy the same. Roy then quickly switches to his left throwing quite a few, although it looked like little landed. The two then started grabbing on to each other pressed up against the boards in the corner. Roy gets off a few more punches that hit the back of Richardson's helmet. The two tire out and the linesmen come in. While being escorted off the ice, Chris Neil gives Richardson a shove. Other Penalties : Chris Neil received a misconduct; Richardson a high sticking and misconduct.
Date/Time For Against Opponent 11/15/01
3 Pd 2:55
@OTT
CAR
Darren Langdon
Date/Time For Against Opponent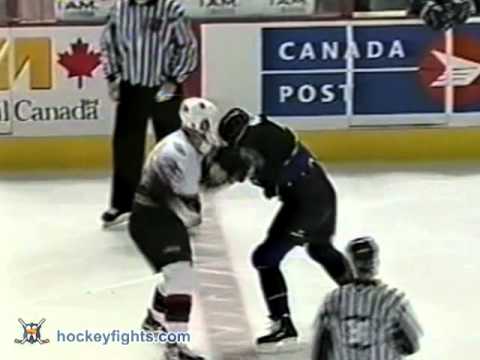 12/20/01
2 Pd 3:13
@OTT
LAK
Kelly Buchberger
Roy unloads lefts on Buchberger, as Buchy's head is down. He gets up, and attempts to trade punches, but Roy is just too much, and Buchy goes down.
Date/Time For Against Opponent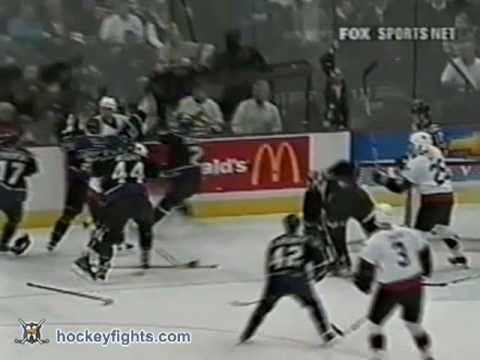 12/20/01
2 Pd 14:38
@OTT
LAK
Ian Laperriere
Until I break down the individual fights, here's the brawl description: It all starts when Andre Roy is left behind the play with Felix Potvin, and Roy is kinda tripped by Felix and he gets the gloves up in Potvins face, and pushes him in the face. Potvin then comes back with 2 punches, and then the calvary comes in. Lappy soon entangles himself with Roy. Herperger takes on Modry. Then you see Neil pounding on Eloranta. Mair, seeing the mismatch, comes off the bench to get himself involved with Neil (hello 10-game suspension). Seeing what is going on (Mair making the Sens shorthanded), Hurme comes to jump in and meets Potvin at center ice. Potvin starts by getting the Sens goalie's helmet off. He throws some punches, nothing really landed. They are now by the Sens bench and Hurme can't get his blocker off, so he sticks it into the bench and his teammates take it off for him (that's teamwork baby!). They throw a couple more nothing punches until Potvin throws a haymaker, but misses. They are now broken up, and the brawl is over. Other Penalties: Roy received a double minor for roughing and a misconduct; Laperriere an instigator and misconduct.
Date/Time For Against Opponent
Date/Time For Against Opponent 01/12/02
1 Pd 9:21
OTT
@TBL
Gordie Dwyer
none yet
Date/Time For Against Opponent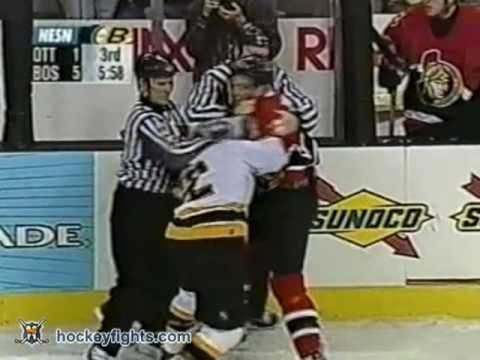 01/17/02
3 Pd 14:2
OTT
@BOS
P.J. Stock
Voted winner: P.J. Stock (83.3%) - Voted rating: 5.4
When the camera gets there, Roy has Stock pinned against the boards punching, the linesman come in as Stock gets loose and Stock starts pounding a tied up Roy. Shawn McEachern was reaching over the boards trying to grab Stock, Rivers comes in to stop that. Other Penalties: Both players received roughings. McEachern a misconduct and game misconduct.
Date/Time For Against Opponent 01/19/02
3 Pd 14:41
@OTT
MIN
Brad Brown
Other Penalties: Brown received an elbowing.
Date/Time For Against Opponent 02/06/02
2 Pd 3:1
OTT
@CBJ
Jody Shelley
Fair square off sees both men with rights cocked and loaded. Circling. Roy feints in and backs out. Shelley hand gestures "come on in". Roy dives in and grabs on. Shelley tosses a right that connects. Roy just ducks another Shelley right. Roy comes up and grabs on again. In tight. Pushing. Along the boards in front of the Ottawa bench now. Roy misses with a lazy right. Shelley ducks a follow up right. A third right catches Jody's helmet. Shelley gets bent over a bit and a fourth right from Roy is hidden from the camera. Shelley straightens up and lands a right to the side of Roy's face. Roy returns a right of his own which is too short. Shelley lands a right to the back of Roy's helmet but no damage there. A haymaker right from Shelley just misses. A right from Roy is deflected by Shelley's arm. A Shelley right is way off course as Roy had a hold of his sleeve. Roy fires a right which does nothing and another which lands on Jody's shoulder. Shelley can't break Roy's grip on his sleeve so he can't get the right going. Tugging. Shelley is still tied up. He's wanting to goe toe to toe, but Roy is apprehensive. Shelley is able to come over the top with a heavy right and bounces it off of the top of Andre's helmet. Another wild clothesline-like punch around Roy's neck sends both men off balance and down they go. In come the zebras and it's off to the sin bin. Nothing solid landed. Decent fight due to Shelley's aggressiveness.
Date/Time For Against Opponent 03/20/02
1 Pd 15:24
@TBL
ATL
Andy Sutton
none yet
Date/Time For Against Opponent 03/22/02
1 Pd 14:9
@TBL
MON
Bill Lindsay
Other Penalties: Roy received an instigator and misconduct.
Date/Time For Against Opponent 04/01/02
3 Pd 10:9
@TBL
NYR
Sandy McCarthy
Andre Roy and Malakhov were about to go when McCarthy came in and started on Roy. Got the jump and landed some decent shots. The rest of the fight was hugging and noogie-ing, but Roy was cut above the left eye. Roy was supremely pissed off and tried to get at McCarthy in the penalty box. He started to slam the glass and everything. He left the box and had to be held back. As he was leaving, he started yapping at the Ranger bench. Barnaby and McKenna were both laughing at him. Other Penalties: Roy received a roughing and double game misconduct; Vladimir Malakhov received a roughing; McCarthy received a misconduct.