2002-2003 Regular Season Fight Card
From:
Port Chester, NY United States
NHL Fights: 9
Date/Time
For
Against
Opponent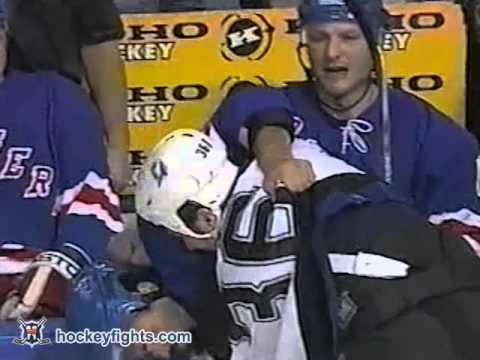 10/30/02
1 Pd 9:51
@TBL
NYR
Sandy McCarthy
Date/Time For Against Opponent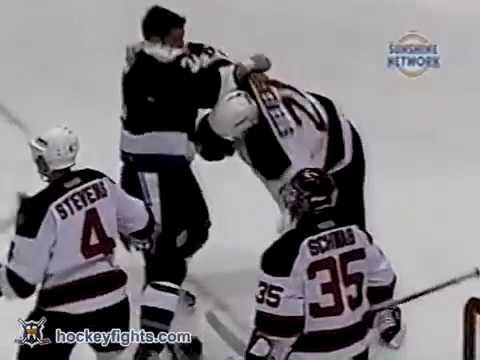 11/23/02
2 Pd 18:57
TBL
@NJD
Turner Stevenson
Other Penalties: Roy received a cross checking; Stevenson a cross checking, instigator and misonconduct.
Date/Time For Against Opponent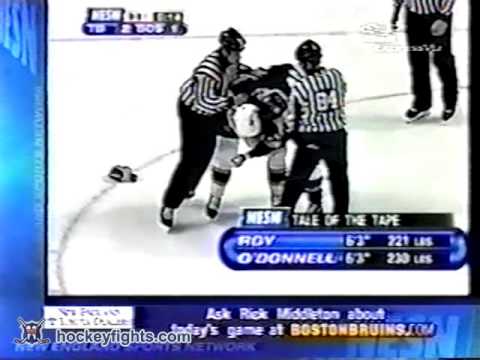 12/07/02
2 Pd 14:46
TBL
@BOS
Sean O'Donnell
Starts in front of the B's net and it looks like O'Donnell initiates. Roy gets the right going, but seems to come up short on all four punches. O'Donnell has a nice opening and attempts two rights, but his arm is caught up in his jersey. He then turns and Roy throws about four more rights to the back of O'Donnell's helmet.
Date/Time For Against Opponent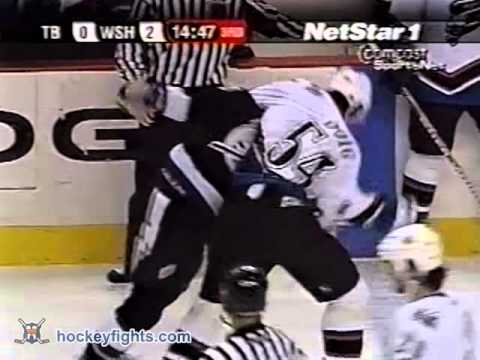 12/23/02
3 Pd 5:13
TBL
@WAS
Jason Doig
Starts around the Lightning blueline when Roy asks Doig to go, and Doig accepts. Gloves come off and some grappling at first. Doig throws 2-3 rights, one of them looks to land clean. Then Roy throws some to the back of Doig's head and they both fall over.
Date/Time For Against Opponent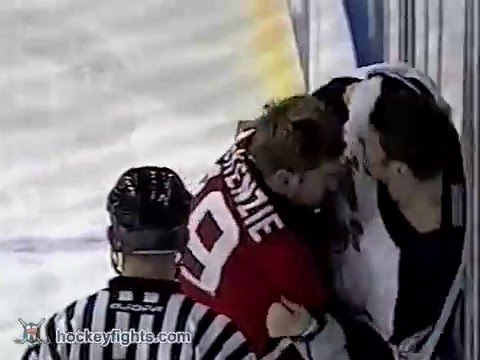 01/11/03
2 Pd 3:44
@TBL
NJD
Jim McKenzie
McKenzie wanted to throw, but Roy didn't and he just held. Big Mac looked to land a few weak punches.
Date/Time For Against Opponent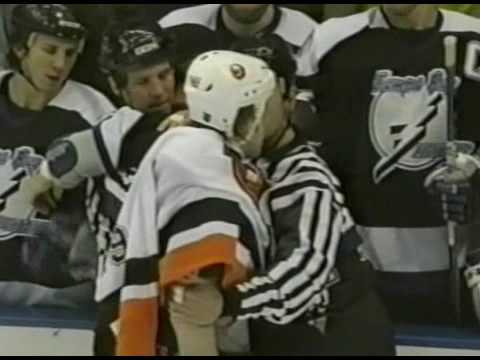 02/11/03
2 Pd 4:2
TBL
@NYI
Eric Godard
Nice long squareoff near the benches. They finally get a hold of each other and start throwing some good punches. Godard starts to land a few more and has Roy bent sideways and lands a couple. Roy answers and Godard throws a left and Roy answers with his own again as the linesmen come in. Good, very energetic fight. After the linesmen stepped in Roy throws a punch at Godard and then pushes away one of the linseman, he gets tossed. Other Penalties: Roy received a game misconduct.
Date/Time For Against Opponent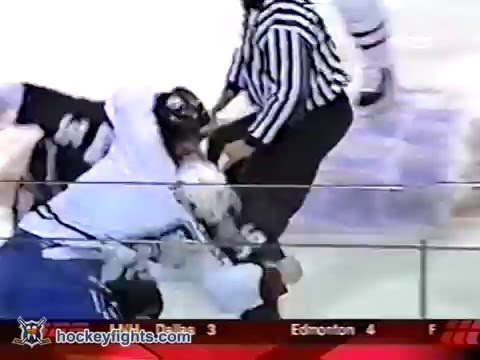 03/15/03
2 Pd 12:16
TBL
@MON
Mike Komisarek
Roy threw a lot more than Komisarek. Nothing really seemed to land or do any damage and then Komisarek got the take down. Fairly high-energy tilt without any damage done.
Date/Time For Against Opponent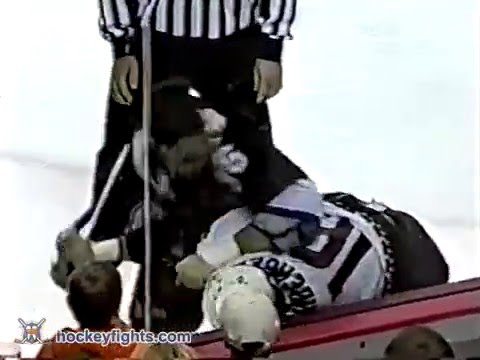 03/22/03
3 Pd 2:39
TBL
@ARI
Kelly Buchberger
Pellerin gets a penalty, and while the play is dead Buchy bumps into Roy. They both look at each other and drop their gloves. They grapple at first against the boards until Roy gets free. He throws several punches, a few looked to land cleanly. He gets Buchy off-balance, pinned against the boards. It looks like the fight is about over until Buchy regains his balance and spins around throwing a nice left that lands. Roy also threw a right and they fall off-balance. On the way down Buchy throws a wild left which didn't look like it landed. Other Penalties: Scott Pellerin received a tripping.
Date/Time For Against Opponent
03/27/03
2 Pd 16:48
@TBL
NJD
Jim McKenzie
They drop the gloves and quickly grab on and throw some rights. Each man actually comes up short in his effort as the other guy is holding him at the elbows and neither has the reach (or loose jersey) advantage to get one through. They loosen up just a bit and get in a couple of shots, no one damaging or stinging the other one. They've been skating about during this moving from mid-ice towards the boards. They get towards a wall while grappling and Roy falls, McKenzie doesn't throw, linesmen come in.