2005-2006 Regular Season Fight Card
From:
Plattsburgh, NY United States
NHL Fights: 6
Date/Time
For
Against
Opponent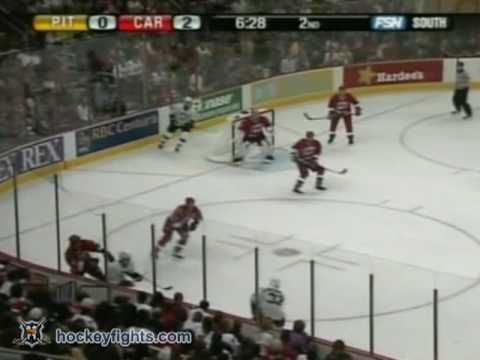 10/07/05
2 Pd 13:39
@CAR
PIT
Ryan VandenBussche
Date/Time
For
Against
Opponent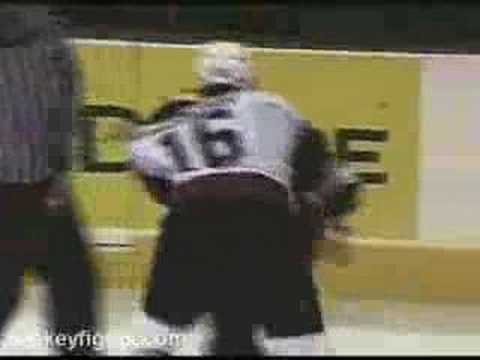 10/24/05
1 Pd 5:7
@CAR
OTT
Brian McGrattan
Date/Time For Against Opponent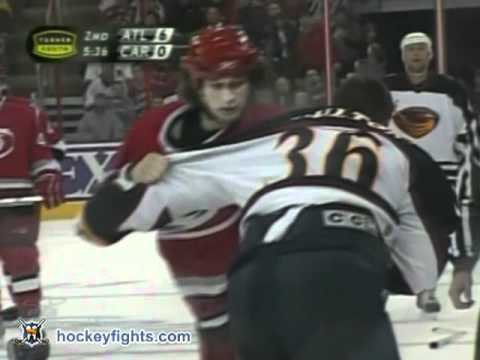 11/12/05
2 Pd 14:24
@CAR
ATL
Eric Boulton
The puck is up in the air and Boulerice is ready to play it when it hits the ice. He's nailed by Scott Mellanby and Boulerice goes right after Mellanby when he gets up, throwing a gloved right and a couple of more punches before Mellanby turtles and the linesmen start to come after Boulerice. Boulton skates over, drops his gloves, and challenges Boulerice and Jesse gladly obliges. They tie up and Boulton throws three rights to the back of Boulerice's head and Boulerice returns fire with an uppercut. Boulerice loses his grip and tries to grab on to Boulton's jersey. Boulton starts throwing rights as Boulerice grabs on. Boulton throws another right as Boulerice gets his left hand in Boulton's face and throws a short right. Boulton throws a huge uppercut that misses and causes him to lose his balance and go down to a knee. Boulton gets back up and throws three more rights as Boulerice comes back with a couple of rights and an uppercut as he shakes off his elbow pad. Boulton switches hands and throws a left before he throws Boulerice down to the ice and the linesmen come in. Other Penalties: Boulerice received an unsportsmanlike conduct; Scott Mellanby a charging.
Date/Time For Against Opponent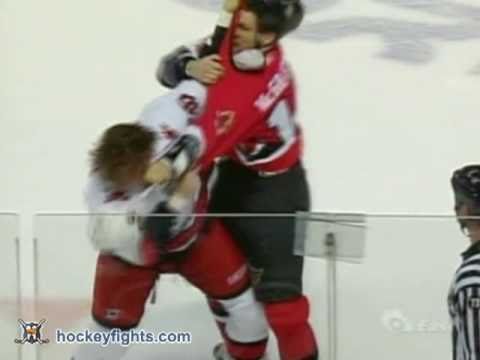 11/15/05
1 Pd 9:8
CAR
@OTT
Brian McGrattan
They drop the gloves near the benches as they skate out towards center ice. Boulerice tries to grab on as McGrattan connects with a jab. Boulerice skates back and both guys latch on. McGrattan puts a left in Boulerice's face and proceeds to throw about 10 consecutive rights, knocking Boulerice's helmet off. Boulerice gets a hand up in McGrattan's face causing McGrattan to miss with a couple of rights as Boulerice leans away. McGrattan throws a jersey-jab and another right as they exchange rights for a little. Boulerice then switches hands and lands a nice left that turns the tide. Boulerice starts raining rights down on McGrattan as he bends down to get away from the punches. McGrattan misses with a right as Boulerice connects with a big left that knocks McGrattan off-balance and to the ice.
Date/Time For Against Opponent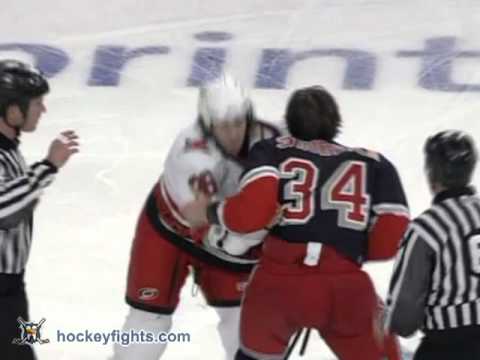 11/19/05
1 Pd 2:54
CAR
@NYR
Jason Strudwick
They do a little pushing and shoving before dropping the gloves near center ice. They try to grab on after a short square off and Strudwick almost slips and falls not getting a good enough of a grip on Boulerice. Boulerice skates over and tries to take advantage and throws a quick right. They get in tight and Strudwick starts throwing short rights as both guys try to get free. Boulerice gets Strudwick's helmet off and shoves a left hand into his face before throwing a body shot. Boulerice then gets Strudwick's jersey partly over his head and starts throwing rights as Strudwick responds with a left at the beginning of the flurry. Strudwick throws a right as Boulerice gets his elbow pad off as he switches hands and responds with two solid lefts. They get in close again and Strudwick throws a right before the linesmen come in.
Date/Time For Against Opponent
03/31/06
1 Pd 15:40
@STL
CBJ
Jody Shelley
Right off of the faceoff, the two look for each other as Shelley skates over and they drop the gloves at the blueline. Shelley immediately grabs ahold of Boulerice and both players grapple for position. Shelley gets Boulerice turned around and connects with three overhand rights to the back of Boulerice's helmet. Boulerice goes down to his knees, allowing Shelley to land two more rights while Boulerice is trying to return to his feet. Shelley then lands two right crosses and gets Boulerice's jersey up and over his head. Shelley throws a short right and the linesmen quickly come in. Boulerice starts throwing lefts through the linesmen, only to be tackled to the ice by one of them.