2005-2006 Regular Season Fight Card
From:
Fort Saskatchewan, AB Canada
NHL Fights: 4
Date/Time
For
Against
Opponent 10/22/05
2 Pd 16:25
CAR
@WAS
Matt Bradley
Date/Time For Against Opponent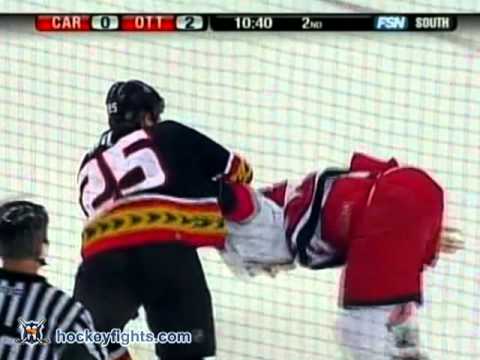 12/28/05
2 Pd 9:20
CAR
@OTT
Chris Neil
Voted winner: Chris Neil (43.9%) - Voted rating: 3.1
Commodore hits Peter Schaefer along the boards as Schaefer gives him a shot in retaliation. They push and shove before both players skate away. Neil skates over and challenges Commodore as they drop the gloves. Commodore starts things off with a quick right before they hold on for a short while. Both players try to throw locked-out rights before Commodore gets free and throws a right cross. Commodore throws another right as Neil throws an overhand right while they spin around. Commodore loses his balance and falls to the ice before Neil switches hands and throws a couple of lefts while Commodore is on the ice.
Date/Time For Against Opponent
Voted winner: Andre Roy (100%) - Voted rating: 7
Right off of the faceoff the two stare each other down before dropping the gloves and squaring off. They grab ahold of each other and grapple as Commodore throws three overhand rights as Roy tries to respond with a locked-out right of his own. Roy then lands a straight right just as Commodore throws a right cross. Roy then throws a flurry of rights with a few landing and Commodore throws a body shot and tries to duck away from Roy's punches. Commodore gets turned around and Roy lands five rights to the back of his helmet. Commodore throws a right in defense as Roy lands another right to the side of Commodore's head. Commodore then falls to the ice and the linesmen rush in. Roy skates off shaking his hand in pain.
Date/Time For Against Opponent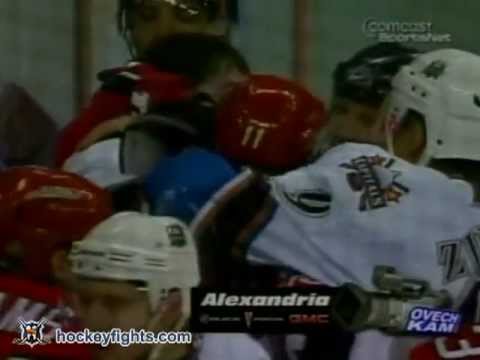 04/03/06
2 Pd 14:11
@CAR
WAS
Nolan Yonkman
Alexander Ovechkin takes an extra whack at Martin Gerber, causing Commodore to cross check him from behind. Ben Clymer skates over and pulls Commodore off of Ovechkin and into the boards. The two wrestle around while a linesmen tries to pull them apart. Commodore drops his gloves and throws a right at the back of Clymer's head, forcing Yonkman to drop his gloves and come to his aid. Yonkman throws a right that is blocked before falling to his knees. Yonkman gets back up and throws two rights to the back of Commodore's head. Commodore throws a right of his own before ducking under a Yonkman right and falling to the ice. Yonkman throws two rights while they are down. Other Penalties: Commodore received a roughing and cross checking; Yonkman a game misconduct; Ben Clymer a roughing.