2002-2003 Regular Season Fight Card
From:
Quill Lake, SK Canada
NHL Fights: 6
Date/Time
For
Against
Opponent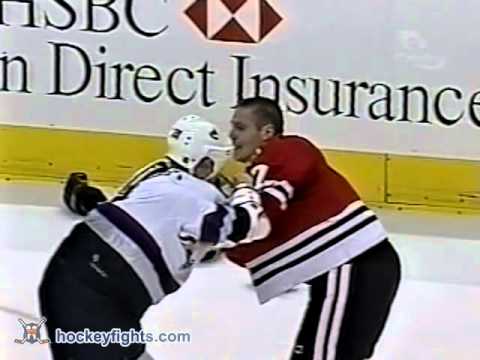 11/20/02
2 Pd 10:25
CHI
@VAN
Darren Langdon
Date/Time For Against Opponent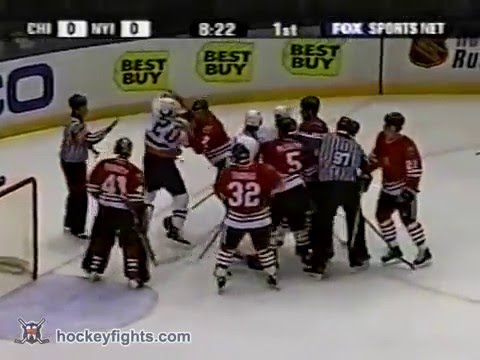 12/10/02
1 Pd 11:38
CHI
@NYI
Steve Webb
Starts at a scrum in front of the Chicago net. Webb starts strong with two quick rights, maybe one landing solidly. Odelein responds with a right that misses and then wrestles Webb down behind net.
Date/Time For Against Opponent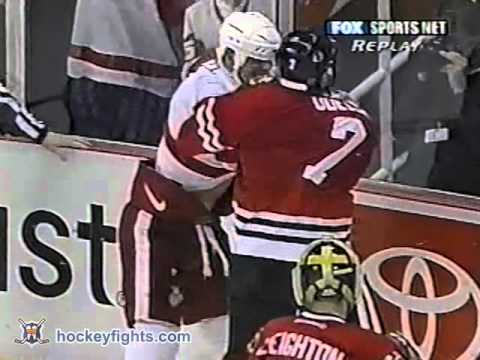 01/13/03
3 Pd 20:0
CHI
@DET
Darren McCarty
These two drop the gloves at the end of regulation. The fight is behind the net, up against the boards. McCarty looks to land a couple of decent lefts. Odelein swings for the fences and comes up empty. McCarty pushes Odie against the boards, switches to the right and lands two good ones and Odie goes down with McCarty on top of him.
Date/Time For Against Opponent
The two grab each other behind the net after a whistle and look like they want to go, but a linesman jumps in. They won't let go and another ref tells the first to back off. Both players are just holding on for a few more seconds until Low gets his right arm free and throws a few, none of which do any damage. A little more holding and the linesmen start to come in. Odelein shakes his head no repeatedly, and the refs back off. Again, Low throws some rights, Odelein can't get his right free to unload, and the linesmen try to come in. Again Odelein says no. Low throws some more rights, Odelein holds on, and the refs come in. Odelein again shakes his head no, but this time the linesmen ignore him and break up the fight.
Date/Time For Against Opponent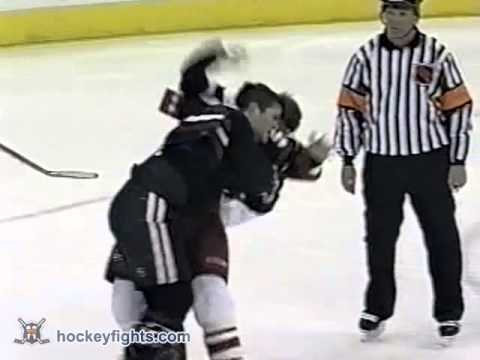 02/15/03
2 Pd 13:22
CHI
@CBJ
Jody Shelley
Fleury slashes Shelley and somehow Odelein ends up hopping in. Decent slow paced scrap. Both with the usual hits and misses. Looked like Shelley had a couple of more late punches and the push/knockdown. Other Penalties: David Ling received a roughing; Odelein an instigator and misconduct.
Date/Time For Against Opponent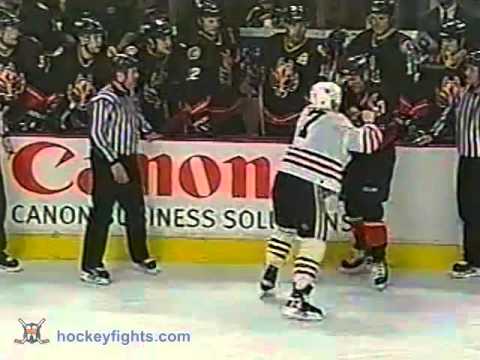 03/07/03
3 Pd 4:16
@CHI
CAL
Craig Berube
Berube throwing a lot, but only landed a few weak ones. Odelein didn't throw anything for the first 20 seconds and then when he did, he didn't get any in.