2003-2004 Regular Season Fight Card
From:
Quill Lake, SK Canada
NHL Fights: 6
Date/Time
For
Against
Opponent 10/13/03
1 Pd 12:1
FLA
@CAR
Craig Adams
Date/Time For Against Opponent 10/20/03
1 Pd 16:34
FLA
@NYR
Matthew Barnaby
This one starts at the same time as Hordi-Simon, but on the opposite side of the ice and the camera doesn't focus on them for a bit. When they do both guys are throwing right hands and spinning. Odelein falls on top at end.
Date/Time For Against Opponent 11/07/03
2 Pd 6:43
@FLA
PIT
Kelly Buchberger
Buchy and Odelein drop them off a faceoff and bearhug. They pull apart somewhat and Buchy misses a right. Odelein throws a left over a hunched over Buchy's head, then throws two more lefts, one into Buchy's back, the other grazing the top of his helmet. They twirl a little, then both start firing lefts. odelein throws a short, downward left that hits Buchy on the cheek. Buchy hits Odelein on the cheek as well. They both land lefts on each other's cheek again. Buchberger then ducks to avoid a left while throwing one himself and nails Odelein, dropping him.
Date/Time For Against Opponent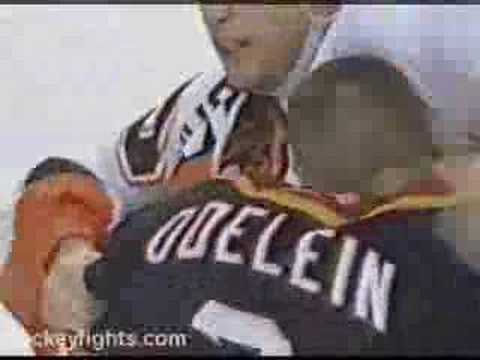 11/19/03
3 Pd 2:50
@FLA
NYI
Eric Godard
With his team down and semi-lifeless Odelein tries to sir it up by going after Godard. They meet up after a whistle and drop em. Godard gets position and throws several good rights. Odelein tries to answer, but Godard is controlling fight and hit Odelein with several big rights. It looked like he let up at end.
Date/Time For Against Opponent 11/21/03
3 Pd 19:57
@FLA
ATL
Garnet Exelby
Three seconds left in the game and these two decide to go. Camera got there a little late. They had each other tied up and Exelby threw a couple of rights and Odelein threw a couple of lefts, none of which landed. Exelby switched hands and tried to get the left going and Odelein's jersey came up over his head. The linesmen jumped in quickly. Other Penalties: Exelby received a slashing; Odelein a cross checking.
Date/Time For Against Opponent 03/27/04
2 Pd 8:24
@FLA
ATL
Garnet Exelby
After the play, Odelein is poking at Lehtonen and Exelby throws a gloved-left to Odelein's chest to get him away from his goalie. Odelein drops the gloves and grabs Exelby, then they hug and try to get position. Ends with them holding on and the linesmen step in. Not sure if anything was thrown or landed, mostly jockeying for position.