2002-2003 Regular Season Fight Card
From:
Elliot Lake, ON Canada
NHL Fights: 10
Date/Time
For
Against
Opponent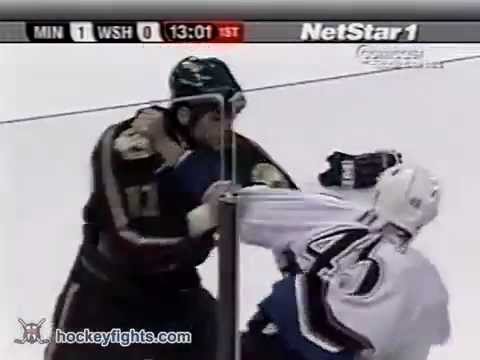 11/21/02
1 Pd 6:59
@WAS
MIN
Matt Johnson
Date/Time For Against Opponent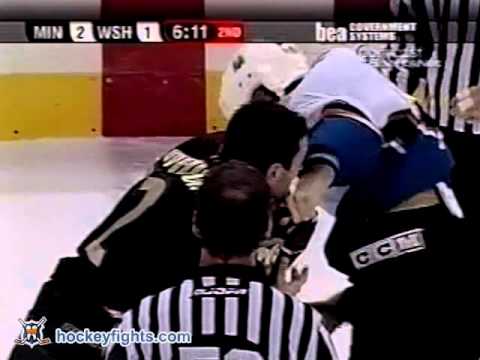 11/21/02
2 Pd 13:49
@WAS
MIN
Matt Johnson
The two drop the gloves and trade punches. Matt Johnson landing the better, then bam! Henry gets blasted and gets sent to the ice. You could tell Moose landed some nice ones by the marks on Henry's face, looked a little bloody.
Date/Time For Against Opponent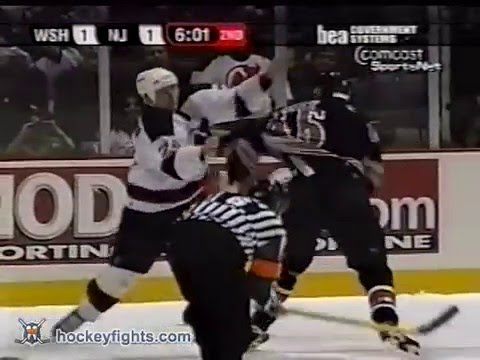 12/28/02
2 Pd 13:59
WAS
@NJD
Turner Stevenson
The two jockey for position in front of the Caps net and Henry asks Stevenson to dance and the gloves come off with a lot of hugging going on. Henry gets his right arm out of his jersey and Stevenson falls on him and the linesmen jump in. Majors?
Date/Time For Against Opponent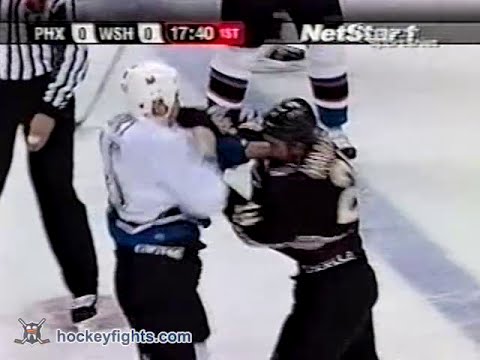 01/01/03
1 Pd 2:20
@WAS
ARI
Darcy Hordichuk
About 3 min. into the game Hordi and Henry sqaure off at center ice. The camera was slow to get there, but when it did they were both going toe to toe, both throwing and landing with each hand. Henry then pushes off of Hordi and hits him squarely. Hordi then gets him back, and they fall.
Date/Time For Against Opponent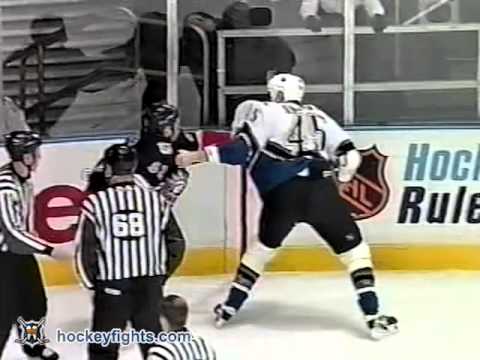 01/04/03
2 Pd 16:10
WAS
@NYR
Gordie Dwyer
After one of the linesmen was hit with a high stick, Henry and Dwyer drop'em with Henry landing some real good rights early. Dwyer only threw one rabbit punch that landed, with the fight ending with Dwyer on top. Other Penalties: Andreas Salomonsson and Tom Poti each received a high sticking; Radek Dvorak a holding the stick.
Date/Time For Against Opponent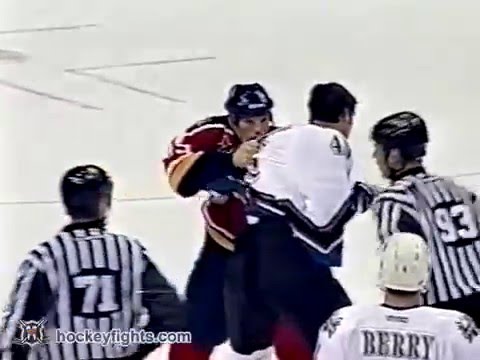 01/11/03
1 Pd 18:9
@WAS
FLA
Lance Ward
The Panthers are hitting everything and Worrell just laid a huge hit on someone and Doig acted like he wanted to fight Worrell, but that didn't happen. Henry pushes Ward from behind and away they go. Ward starts off strong, throwing four unanswered rights. Finally Henry throws two short punches, one which knocks off Ward's helmet. They grapple for a bit, Henry gets his right hand free and throws two rights. Ward responds with one more right and then he holds and is avoiding three short punches from Henry that either miss or hit Ward in the shoulder. Now they hug until the linesmen come in. Other Penalties: Henry received a roughing; Jamie Rivers a tripping.
Date/Time For Against Opponent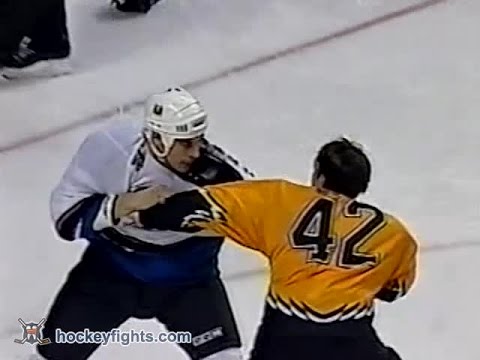 01/20/03
1 Pd 8:6
WAS
@BOS
P.J. Stock
Voted winner: Alex Henry (40%) - Voted rating: 5.6
Starts in front of the B's net as it looks like Stock and Oliwa are fighting over who's going to go with Henry. The 6'6" Henry gets Stock at arms length and starts firing rights, landing maybe one. Stock ducks and starts to chuck the left, landing maybe one of his own. Henry gets him at arms length again and fires off 4 or 5 more rights, all glancing as Stock turns his head with each Henry punch while trying to get better position. Stock gets inside and tries to throw again, but scores the takedown.
Date/Time For Against Opponent
02/12/03
1 Pd 4:45
WAS
@ATL
Jeff Odgers
Odgers is looking to spark the Thrash who are down 2-0 early and challenges Henry in the Caps end after the whistle. They both start grappling at first with Henry throwing some big rights. None are really connecting and Odgers comes back with some of his own rights, with maybe one landing. Henry lands a good late right and takes down Odgers.
Date/Time For Against Opponent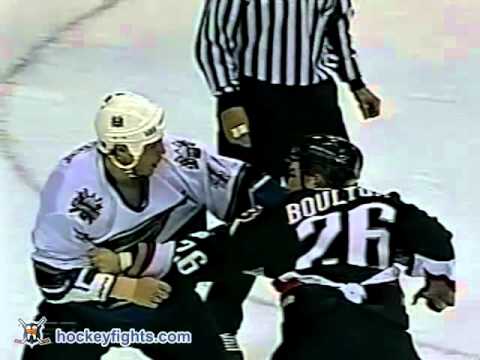 02/26/03
1 Pd 13:23
@WAS
BUF
Eric Boulton
They drop the mitts in front of the Washington net. Wrestling at first, neither guy can get free. Boulton gets his arm free and lands a pretty good right. Henry responds with a good right of his own, and may have landed with another. Boulton goes down shortly after.
Date/Time For Against Opponent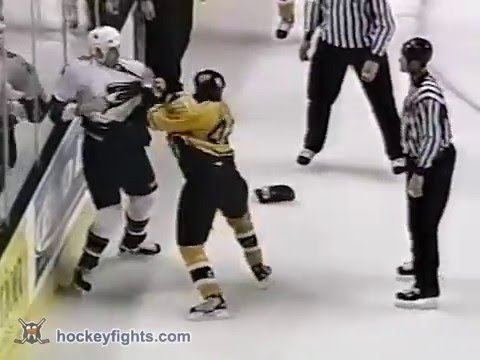 03/08/03
1 Pd 10:12
WAS
@BOS
P.J. Stock
On the ensuining faceoff after Oliwa-Peat, Stock and Henry go in another classic. They squareoff for a couple of seconds, then they move in and grab. Henry throws a couple of rights which miss and Stock turns southpaw and throws some lefts, which come up short. Henry then gets the right lined up and lands about 4-5 hard rights until Stock comes up with a right of his own that lands flush and snaps Henry's head back. Stock quickly switches back to the left and lands 2-3 to a stunned Henry. They clutch and Henry regains his composure and lands another good right followed by more clutching. Stock lands one more right which looks to be all helmet, and the linesmen come in. Stock was opened up again and was bleeding pretty good.