2003-2004 Regular Season Fight Card
From:
Elliot Lake, ON Canada
NHL Fights: 9
Date/Time
For
Against
Opponent 11/07/03
2 Pd 1:45
MIN
@CAL
Steve Montador
Date/Time For Against Opponent
Domi pokes at Roloson after the whistle and Henry pushes him into the boards. They grab each other and shed the gloves. Weimer tried to grab at Domi as he and Henry were battling for position but they skate away from him, Henry threw a right that landed and slipped to the ice, he stood up quickly as Domi threw a left that landed and another one that missed. They grapple some more and Domi threw a short left that connected and another that missed, Henry lost his balance again and got caught clean by another left hand from Domi that stood him back up. They get in close and Henry throws a big left overtop that misses and throws them both off-balance, Domi landing on top.
Date/Time For Against Opponent 12/20/03
2 Pd 10:11
@MIN
CBJ
Jody Shelley
Voted winner: Alex Henry (79.4%) - Voted rating: 6.9
They drop em, and get going quick, each with the rights. Shelley throws a bunch, landing a few, while Henry only gets off a couple, maybe landing one. They're in a slow spin, do about a 180, and then start going again. Shelley gets off one, while Henry pops Shelley with two shots, the second one sending him to the ice. They tangle on the ice for a moment while the linesmen immediately come in.
Date/Time For Against Opponent 01/21/04
2 Pd 10:38
@MIN
CHI
Ryan VandenBussche
Off the faceoff Vandy grabs Henry and starts jersey-punching as Henry tries to get a grip. Vandy throws one or two wild swings and connects on at least one of them, cutting Henry under the left eye. Henry locks him out and Ryan keeps trying to reach him, but didn't get anything in. They both start swinging with each guy landing one or two. Vandy starts to jersey Henry and pull his head down. At this point the jersey is over his head and they each throw one. A blinded Henry missed and Vandy got in a punch to the top of Henry's helmet. The linesmen come in as the jersey is now back to normal on Henry.
Date/Time For Against Opponent
Voted winner: Reed Low (57.1%) - Voted rating: 5.8
Low was just waiting for the whistle to start throwing. Both players locked each other out decently at first, but Low got free and landed a few, then Henry does the same. Low came back at the end and switched hands decently. The linesmen are in Low gives Henry a straight right to the face. He then proceeded to push Brad Bombadir on his way to the gate. Other Penalties: Low received a roughing and misconduct.
Date/Time For Against Opponent 02/02/04
3 Pd 5:56
@MIN
STL
Mike Danton
Voted winner: Alex Henry (57.7%) - Voted rating: 3.8
Not much of a fight as they jostle for position. Danton looked to land a decent right early on and Henry landed a couple of uppercuts later on. Tons of grappling. After they got down and the linesmen come in, Danton gives Henry a pop. Other Penalties: Danton received a misconduct.
Date/Time For Against Opponent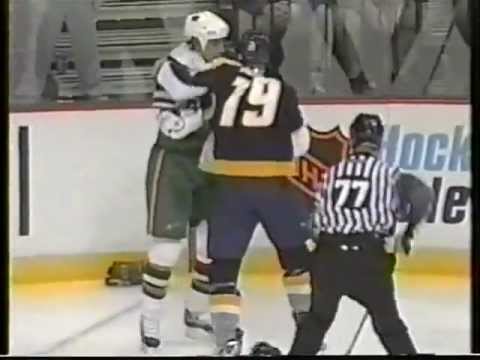 02/26/04
2 Pd 4:26
MIN
@NSH
Jim McKenzie
Lots of grappling, a few punches thrown by both. Henry stayed in pretty tight and McKenize looked to try and back him away throwing a couple of rights and a few body shots before trying to go with his left. Mac then wrestles Henry to the ice. Henry threw one good punch that may have grazed McKenzie.
Date/Time For Against Opponent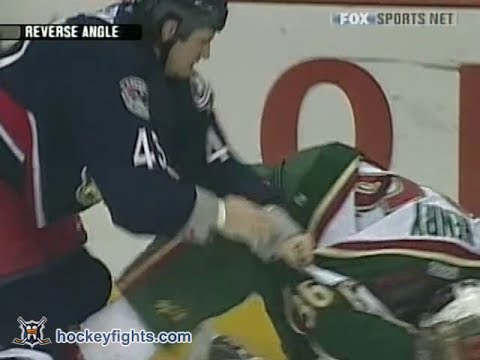 03/24/04
2 Pd 6:1
MIN
@CBJ
Jody Shelley
At the end of the play someone gives Richardson a little shove in front of the Blue Jackets net. Players come together along the boards and Henry grabs a hold of a Jacket so over comes Shelley. Shelley drops the gloves and pops Henry with a big right smack in the eye. Down goes Henry, gloves still on. The announcers mentioned Henry was bleeding, but it was not shown. Other Penalties: Shelley received a roughing, misconduct and game misconduct; Stephane Veilleux a roughing.
Date/Time For Against Opponent
03/25/04
3 Pd 9:59
MIN
@CHI
Travis Moen
Moen flattens a Wild player and Henry makes a b-line for Travis. They're in-close and Henry's cut from the Shelley punch last night re-opens. No punches thrown from there on in. They both just hang on until it's broken up.