2005-2006 Regular Season Fight Card
From:
Shelburne, ON Canada
NHL Fights: 5
Date/Time
For
Against
Opponent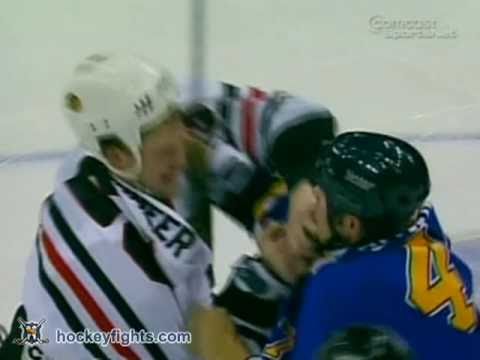 11/02/05
2 Pd 5:9
@STL
CHI
Jim Vandermeer
Date/Time For Against Opponent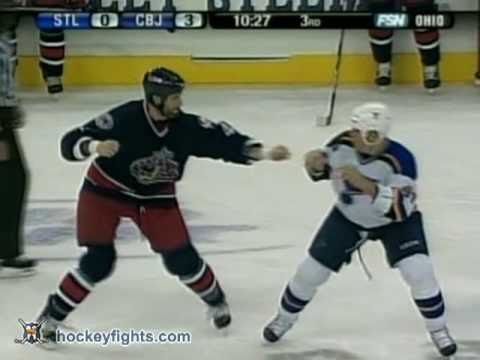 11/09/05
3 Pd 9:33
STL
@CBJ
Jody Shelley
They drop the gloves and have a nice, long square off at center ice. Shelley spends the majority of the time trying to grab Downey's sleeve. When he finally does, Shelley lands a big right hand that drops Downey to the ice. The linesman holds Downey until he collects himself and he skates away, blood streaming from his right eye.
Date/Time For Against Opponent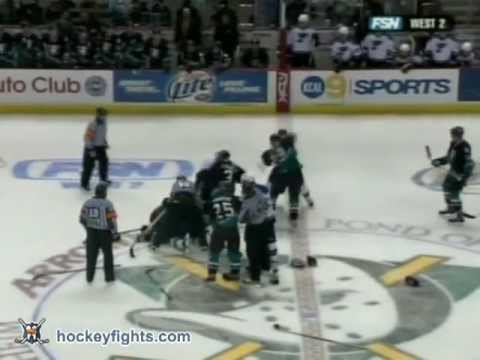 12/21/05
2 Pd 5:24
STL
@ANA
Todd Fedoruk
Barret Jackman chases Tyler Wright up and down the ice to try and get him to drop the gloves, shoving him and giving him slashes before Wright turtles to the ice. Jackman starts throwing gloved punches to Wright's head while he is down as Zenon Konopka comes over and grabs Jackman. Meanwhile, Fedoruk and Downey are away from the scrum squaring off. They grab on and Fedoruk throws a left to start things off. They wrestle around before Fedoruk gets his right free and throws an uppercut and a right cross with Downey returning fire with two rights as Fedoruk slips to the ice, bringing Downey with him. They get back on their feet and grapple for a bit until Fedoruk gets his left free and nails Downey as Downey is throwing a right. Downey collapses to the ice as Fedoruk holds him up, keeping his head from hitting the ice. Other Penalties: Barret Jackman received a triple roughing.
Date/Time For Against Opponent
Date/Time For Against Opponent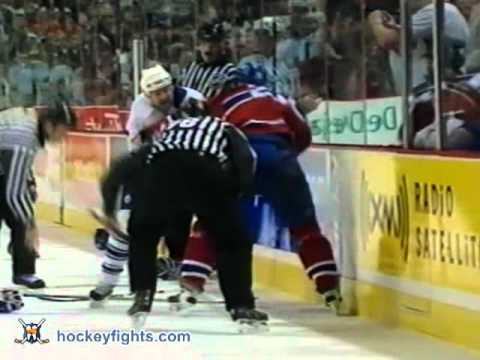 03/25/06
3 Pd 14:4
@MON
TOR
Luke Richardson
During the scrum that resulted in the Allison-Dandenault fight, Downey and Richardson have paired off and have one another locked up very well. Downey tries to throw a weak jab or two, but comes nowhere near connecting. When the linesmen finish with the previous fight, they break this non-eventful bout up. Other Penalties: Each player received a game misconduct.