1996-1997 Regular Season Fight Card
From:
Oakville, ON Canada
NHL Fights: 12
Date/Time
For
Against
Opponent 10/10/96
2 Pd 14:18
@NYR
DAL
Grant Marshall
Date/Time For Against Opponent 10/30/96
2 Pd 5:50
NYR
@NJD
Mike Peluso
Date/Time For Against Opponent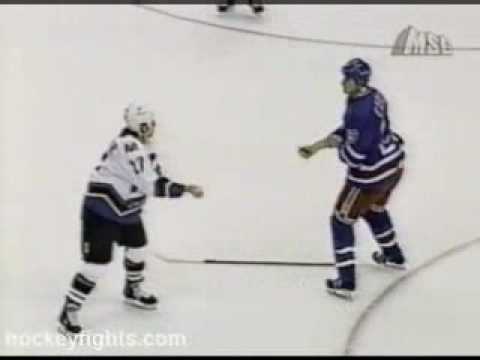 11/09/96
1 Pd 2:38
NYR
@WAS
Craig Berube
Long square off. They spin for about 15 seconds before Cairns grabs on. Cairns throws four rights, two land to the back of Berube's head. Berube gets going with the right, missing one, then landing two. They spin and both land shots at the same time. They do the same thing again, but this time Berube's shot lands square dropping Cairns.
Date/Time For Against Opponent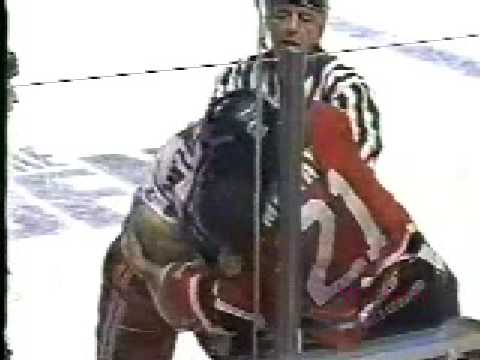 01/12/97
1 Pd 5:58
@NYR
NJD
Randy McKay
Date/Time For Against Opponent 01/13/97
1 Pd 15:38
@NYR
NYI
Steve Webb
They meet up at center ice and Cairns has the rights going, the first one nailing Webb right to the face, followed by three more rights that looked to graze Webb. Webb answers back with two rights, all missing as he tries to stay on his feet from bad balance. He finally falls over with Cairns throwing a right that hits him on the shoulder, then the linesman come in to break it up.
Date/Time For Against Opponent 02/01/97
1 Pd 9:22
NYR
@PHI
Dan Kordic
Date/Time For Against Opponent 02/01/97
1 Pd 0:28
NYR
@PHI
Scott Daniels
Date/Time For Against Opponent 02/21/97
3 Pd 5:56
NYR
@HFD
Kelly Chase
Date/Time For Against Opponent 03/12/97
1 Pd 15:0
@NYR
WAS
Craig Berube
Date/Time For Against Opponent 03/19/97
2 Pd 9:59
@NYR
MON
Scott Thornton
Date/Time For Against Opponent