2005-2006 Regular Season Fight Card
From:
Stewart Valley, SK Canada
NHL Fights: 5
Date/Time
For
Against
Opponent 10/26/05
2 Pd 12:20
@ANA
CAL
Jarome Iginla
Date/Time
For
Against
Opponent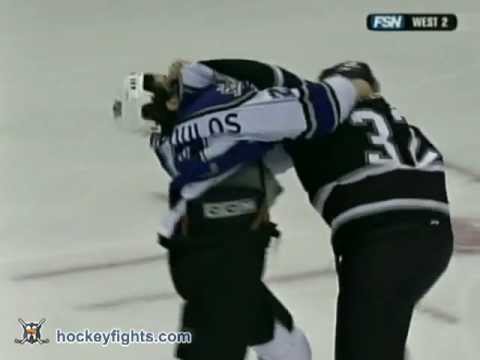 01/09/06
3 Pd 12:34
@ANA
LAK
Tom Kostopoulos
Date/Time For Against Opponent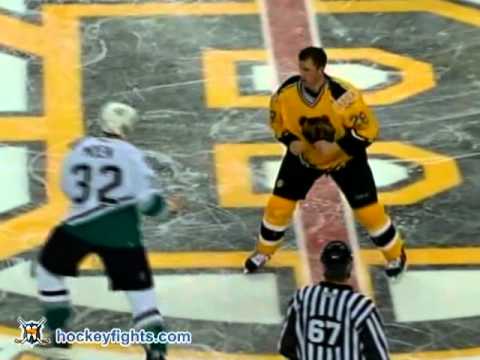 01/16/06
2 Pd 1:17
ANA
@BOS
Dan LaCouture
They drop the gloves near center ice and square off. They each try to grab on to the other until LaCouture gets a hold of Moen and throws a right to the back of Moen's head as Moen comes back with two rights of his own. LaCouture switches hands and throws a left as Moen throws another right that misses. LaCouture loses his balance and goes down to his knees as Moen throws two rights while they are spinning. They let go and square off again before grabbing on and spinning around once more with LaCouture and Moen each throwing two rights each. LaCouture misses with a right as Moen loses his balance and lets go, sliding backwards on the ice while down on his knees. They square off for a third time as Moen connects with a quick left while they are trying to grab hold of each other. They grab on again as both throw a couple of locked-out punches as they spin around. Moen throws a right to the back of LaCouture's head before the linesmen finally come in and end the fight.
Date/Time For Against Opponent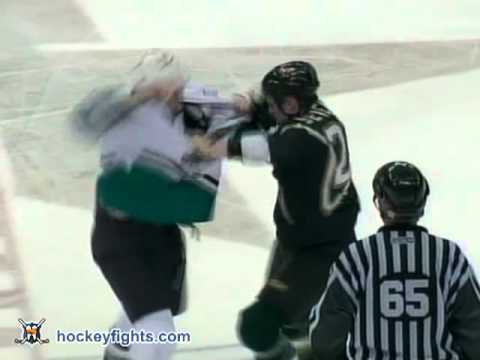 03/29/06
3 Pd 11:24
ANA
@DAL
Jeremy Stevenson
Behind the play, the two drop the gloves and square off near the side boards. They grab ahold of each other and start spinning around with Moen throwing a right and Stevenson answering with a few jersey-jabs. They exchange multiple wild rights while spinning around, trying to keep their balance, with Moen throwing more punches. Moen comes across with a right before the two begin to spin around and exchange punches once again. Stevenson throws a right and loses his balance, going down to a knee. Stevenson returns to his feet and connects with a left that knocks Moen off-balance. They then each throw an overhand right before Stevenson falls to the ice and the linesmen intervene.
Date/Time For Against Opponent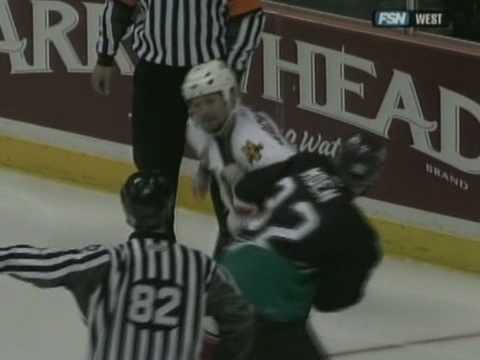 04/17/06
3 Pd 3:26
@ANA
CAL
Bryan Marchment
Marchment and Moen get tangled up behind the net while trying to play the puck just before they decide to drop the mitts. They exchange overhand rights with Moen adding a right and five jersey-jabs for good measure. Marchment throws a right while Moen tries an uppercut. Marchment switches hands and throws two off-balance lefts while Moen tries to regain his position. Marchment throws another left and a jab just before Moen returns fire with a left. The two go back and forth with lefts and decide to take a quick breather after the exchange. Moen then winds up and throws a right that Marchment is able to see ahead of time and duck under. The two exchange slow lefts and Moen goes down to a knee, causing the linesmen to start thinking about stopping the fight. Moen gets back to his feet and is able to block a few Moen lefts and rights until the linesmen step in.