2003-2004 Regular Season Fight Card
NHL Fights: 5
Date/Time
For
Against
Opponent 12/18/03
3 Pd 10:37
@ATL
NJD
Colin White
Date/Time For Against Opponent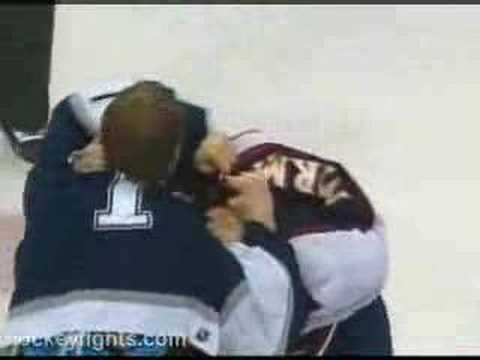 02/11/04
3 Pd 18:11
ATL
@EDM
Eric Brewer
Sutton and Brewer drop the gloves at center ice and grab ahold of each other during the scrum. They grapple and size each other up until Sutton opens things up with two rights. They wrestle around until Brewer answers with a right. Sutton throws two rights that Brewer is able to duck away from. Sutton then wrestles Brewer down to the ice, but Brewer gets back to his skates and starts the fight back up again with another right hand. They then hold on until they skate up against the glass and the linesmen come in to break things up and end the fight. Other Penalties: Each player received a game misconduct.
Date/Time For Against Opponent
Date/Time For Against Opponent 02/16/04
3 Pd 17:58
ATL
@BUF
Eric Boulton
Radio: Boulton runs Aubin. A bunch of people go after him, and Sutton is the one who ends up fighting him. Everyone else pairs off. Jeanneret's call was pretty vague, but punches were exchanged in a pretty short bout. Other Penalties: Boulton received a double elbowing.
Date/Time For Against Opponent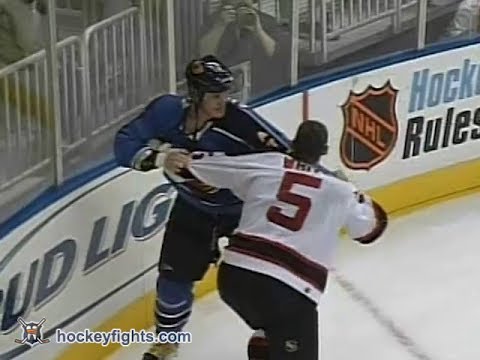 03/26/04
1 Pd 18:56
@ATL
NJD
Colin White
Gionta is cross checked hard in front of the Thrashers' net and bounces back up not impressed he goes after Majesty. Colin White comes over and eventually everyone else joins the scrum in front of the net. A few moments later Sutton and White are paired off with Sutton throwing rights early. White is mostly holding on but gets in a few shots as well, hard to tell if anyone landed anything. White goes for the takedown and Sutton spins him as they fall, going on top of White and throwing a couple punches while they're down. Other Penalties: Patrick Elias a roughing and misconduct; Brian Gionta a cross checking; Shawn McEachern a double roughing; Ivan Majesky a roughing.